Bank of Ireland said that the three months to the end of September saw generally better trading conditions compared to the second quarter of 2020.
In a trading update today, Bank of Ireland said that business volumes and activity in Ireland improved including a 30% increase in its mortgage drawdowns compared to the second quarter of 2020.
But it said that while there has been improvement in the third quarter, recently announced Covid-19 restrictions by both the Irish and UK governments combined with Brexit present continued uncertainty.
Bank of Ireland said its net interest income (NII) - a key performance measure - is 2% lower in the nine months to September, when compared to the same time in 2019.
The bank said this reflects lower new lending volumes and the on-going impact of lower interest rates.
"Lower funding costs, including the impact of applying negative interest rates to certain deposits, has supported interest income. In addition, higher mortgage and revolving credit facilities (RCFs) activity has been positive," it said.
While the third quarter has seen an improvement, it said that business income is still 19% lower in the nine months to September compared to the same time in 2019.
We need your consent to load this rte-player contentWe use rte-player to manage extra content that can set cookies on your device and collect data about your activity. Please review their details and accept them to load the content.Manage Preferences
Bank of Ireland said it has not experienced a material increase in loan losses since June 2020, in line with its expectations.
It also said the number of customers availing of a payment break continues to reduce as the breaks expire.
The lender approved about 106,000 initial three-month payment breaks in Ireland and the UK, with about 27,000 availing of a further three month extension.
As at October 16, it said it has a total of about 20,000 outstanding payment breaks.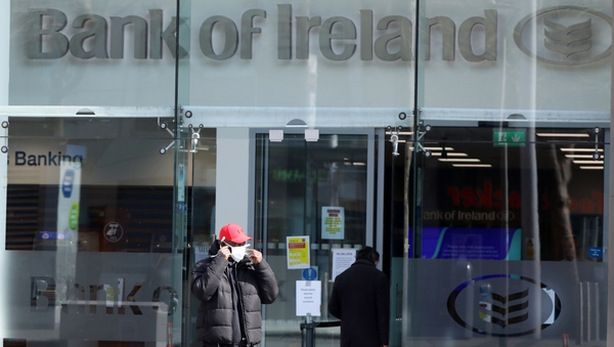 It also said that the "significant majority" of customers that have come off payment breaks have resumed full repayments, adding that the number of customers requiring additional support was in line with its expectations.
Bank of Ireland's non-performing exposures (NPEs) have remained broadly stable since the end of June 2020, and stood at €4.5 billion at the end of September, which is equivalent to an NPE ratio of 5.8%.
"What we're seeing in terms of customer response to coming off payment breaks is very much in line with expectations. We've allocated significant resources to help those customers if they do need financial support as they come off the second payment break," Bank of Ireland Group CEO Francesca McDonagh told RTE's Morning Ireland.
She said the bank was trying to find solutions that work best for customers.
"Whether it's an additional payment break on case by case basis, interest only or more staggered payments. We entered this crisis with the lowest levels of non-performing exposures (NPEs) of any Irish bank and we have good track record," she said.
The bank also said its voluntary redundancy scheme, which concluded in the third quarter, will result in about 1,450 workers leaving the bank in the coming years.
When completed the financial impact is a €114m reduction in annual staff costs, equivalent to 14% of September 2020 annualised staff costs.
Ms McDonagh confirmed that the bank had received about 2,000 applications for the scheme.
"About 80% were accepted. There are areas where we don't want to reduce headcount, where we don't want this redundancy package to have any impact on customer service. In total, we'd have about 1,700 individuals who will be leaving the organisation in a gradual way."
The CEO clarified that the 1,700 would amount to about 1,450 full time positions and that the majority of them would leave in 2021 with the remainder going this year and some in 2022.
On interest rates, Francesca McDonagh said the bank had no plans to pass negative rates onto its personal customer base, despite an upsurge in deposits throughout the pandemic.
"We're applying (negative rates) only to larger corporate or institutional customers. We're very mindful of the impact that negative rates can have. Whether it's a household or a business, we do it in a very considered way."
Ms McDonagh signaled that the bank had no intention of altering its mortgage rates offering, despite the arrival of a new competitor to the market offering a fixed rate of under 2% to customers with a significant deposit or with significant equity in their property.
"We're very competitive in the fixed rate market with cashback, especially in the higher loan to value market.
"First time buyers are a huge part of the market and they typically have higher loan to value and our proposition is very attractive to them. We maintained market share during the nine months at about 25% share of drawdowns and about 26% of applications. We're comfortable with our offering," she concluded.
Despite the backdrop of Covid-19 and Brexit, the Bank of Ireland CEO said the bank's capital position remains "strong".