A new survey from the Central Statistics Office show that the average annual household disposable income in 2019 was €43,552, up from €42,865 in 2018.
The CSO's Survey on Income and Living Conditions (SILC) for 2019 also shows that households with three or more persons at work had the highest nominal median household disposable income at €95,613.
This compared with €24,173 for households with no one in the house at work.
The SILC household survey is the official source of data on household and individual income and it provides a number of key national poverty indicators, such as the at risk of poverty rate, rate of enforced deprivation and the consistent poverty rate.
Today's survey also shows the at risk of poverty rate fell to 12.8% in 2019 from 14% in 2018. The at risk of poverty rate is the share of people whose income was less than 60% of the national median income.
The CSO noted that those most at risk of poverty in 2019 were individuals who were not at work due to illness or disability (37.5%) and those who were unemployed (35.4%).
It said this compares with an at risk of poverty rate of 4.6% for those that described their main economic status as at work.
In 2019, 17.8% of the population were defined as living in enforced deprivation, where they experienced two or more of the eleven types of deprivation.
The CSO said this compares with 15.1% in 2018 and a high of 30.5% in 2013.
---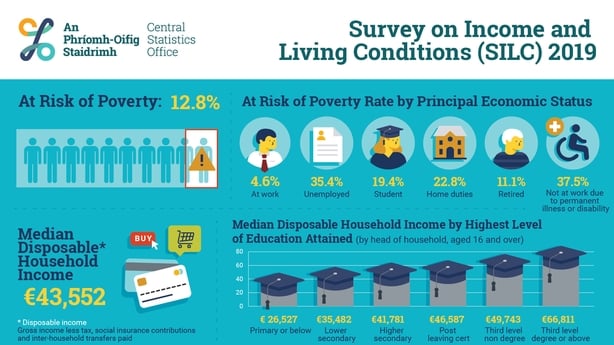 ---
The identification of deprived is based on a set of 11 basic indicators, including whether a person can afford two pairs of strong shoes and a warm waterproof overcoat, can afford to buy new clothes, eat a meal with meat, chicken, fish (or vegetarian equivalent) every second day, have a roast joint or its equivalent once a week, have to go without heating during the last year through a lack of money, keep the home adequately warm, buy presents for family or friends at least once a year, replace any worn out furniture, have family or friends for a drink or meal once a month or have a day or night out in the last fortnight for entertainment.
Meanwhile, the consistent poverty rate, which includes those persons who are defined as being both at risk of poverty and who are also experiencing enforced deprivation, was 5.5% last year, compared with 5.6% in 2018.
The CSO noted that consistent poverty rates decreased by age group. Of those aged between a year and 17, 8.1% were in consistent poverty, compared with 5.1% of those aged 18-64 and 2.3% of persons aged 65 and over.
Meanwhile, 13.5% of those living in rented accommodation were defined as living in consistent poverty, compared with just 1.8% of those living in owner-occupied accommodation.
Commenting on today's CSO figures, Social Justice Ireland said that 637,107 people are living in poverty in Ireland today and out of this number, around 193,681 are children under the age of 18.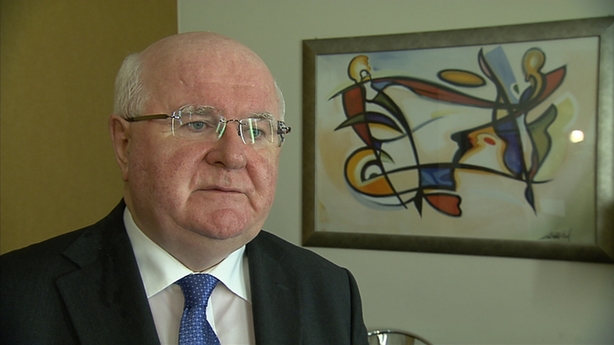 Despite wage growth, increased employment and very high rates of economic growth last year, these figures show that a significant proportion of the population is still living in very difficult circumstances, Social Justice Ireland said, adding that it expects the impact of Covid-19 will just make the situation worse.
"We welcome the improvements in poverty rates, but despite the fall in numbers, the scale of poverty is still far too high and presents some serious policy challenges. The reality is that hundreds of thousands of people are living in poverty, this is unacceptable after several years of sustained economic growth" commented Dr Seán Healy, Director of Social Justice Ireland.
Seán Healy said that social welfare payments play a crucial role in reducing poverty.
He said this means that Government's decision not to increase core welfare rates in Budget 2021 will inevitably reverse any gains that these vulnerable people have seen in recent years.
"Today's figures reinforce just how critically important welfare is in addressing poverty. Without social welfare payments 41.4% of Ireland's population would be living in poverty, instead of 12.8%. Such an underlying poverty rate suggests a deeply unequal distribution of income," he added.