The banking industry has said it will continue to support customers through to the end of the Covid-19 pandemic, but has stopped short of offering further blanket loan repayment breaks.
In a statement, the Banking and Payments Federation Ireland said its members recognise the financial challenges that moving to Level 5 poses for many people.
It said that banks would give their full support to customers over the next six weeks and beyond.
"Some 2,500 staff in financial support units across the five retail banks are actively working with mortgage customers and SMEs facing financial challenges to fully understand their situation and to put in place an individual solution for them," BPFI's chief executive Brian Hayes said.
"We understand that this is a hugely stressful time for many customers and that payment breaks may be part of the overall customer solution," Mr Hayes said.
But despite growing calls for the blanket loan repayment break scheme from earlier in the year to be reinstated to help assist those facing into further financial difficulty, the BPFI has indicated that this option is not on the table.
Earlier, Sinn Féin's finance spokesman Pearse Doherty said the Minister for Finance should call in the banks today and ask them to start accepting applications from mortgage holders who need a payment moratorium.
Speaking on RTÉ's Morning Ireland, he added that there should be an industry wide break for those who have lost their job or lost income as a result of Covid-19.
Mr Doherty said it is the least that could be done by the Government, particularly at a time when the State is the majority shareholder in two of the significant banks.
150,000 payment breaks were given to personal and business borrowers earlier this year following the introduction of Covid-19 restrictions.
However, the option for customers to apply under the industry wide initiative ended at the end of September.
Since then the banks have said they are assisting customers on a case by case basis, including offering payment breaks where that is appropriate.
"We will continue to deliver a range of solutions to meet customers' individual circumstances," Mr Hayes said.

"A wide range of solutions are being made available by lenders at this time and are being worked through with borrowers," he said.
"We already have established structures in place for those customers who find themselves struggling to meet repayments. Lenders are using these established processes and are acutely focused on engagement, assessment, and solutions," he added.
The BPFI position was accepted by Minister for Finance, Paschal Donohoe.
He said the appropriate course of action on loan and mortgages repayments now for those in financial difficulty is that they are handled on a case by case basis by lenders - based on the different needs borrowers have.
But Labour Party spokesman on Finance, Public Expenditure and Reform, Ged Nash, called on the Government to act urgently and ensure the banks provide for formal mortgage and loan repayment breaks with no interest or penalties, nor any damage to credit ratings.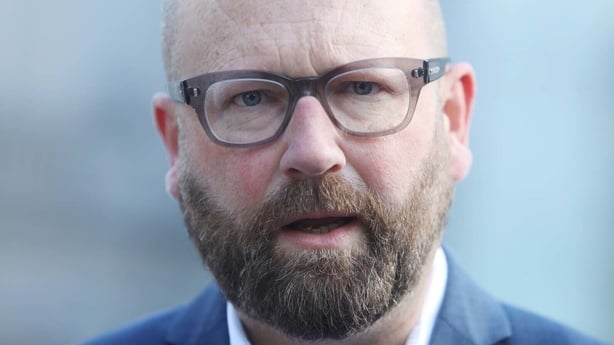 "Banks need to commit to giving mortgage and loan payment breaks for those who will be laid off or have their incomes hit hard later this week," Mr Nash said.
He said the failure to formally extend the initial six-month break period means that any new arrangement mortgage holders might enter into risks damaging their credit rating.
"Structured payment breaks must still be offered to all workers and firms especially in those sectors that are being hit now such as retail and hospitality but also those that are bearing a much longer term hit such as the arts, events and tourism sector, and the gratuitous Covid-19 interest rate penalty interest rate must be dropped," Mr Nash added.
The head of The Irish Mortgage Holders Organisation claimed the position adopted by the banks is 'disgraceful'.
CEO, David Hall said: 'We are not in this together and banks and vulture funds are not to be trusted."
"I fully respect ordinary bank staff working in this country, but their bosses have made a cruel and unnecessary decision that will heap further pressure on to thousands of families who're already struggling to cope with the worst global health crisis in living memory," he said.