The key role which frontline staff play in helping companies to exceed customers' expectations during Covid-19 is one of the key themes to emerge in the latest survey of Irish brands based on customer experience.
The Irish Credit Union strengthened its reputation as the country's customer experience leader by not just claiming pole position for the sixth year in a row, but by also extending its lead at the top of the table.
Shaws Department Stores was second while An Post and Specsavers were joint third in the latest Irish Customer Experience Report.
The Credit Union and An Post are the only two organisations to have maintained a Top 10 ranking over the last six years, the survey - carried out by Amarách Research on behalf of The CX Company - shows.
But the companies which performed most poorly this year and recorded the highest scores for failing to meet expectations included Ryanair, Eir, Vodafone, Aer Lingus and Bus Eireann.
Cathy Summers, the editor of the report, said that Covid-19 is causing a lot of fear and uncertainty and this has forced customers and brands to reassess what matters most.
"Because of this we have witnessed a dramatic 'back to basics' approach in the delivery of customer experience, with issues such as safety and trust coming to the fore," Ms Summers said.
"Not surprisingly a third of Credit Union and An Post customers said they had exceeded their expectations during Covid-19.
"What these and the other high-performance companies did was put the systems and structures in place to enable their 'frontline heroes' to step up and stand out," Ms Summer said.
"And that they did, offering genuine care and reassurance to customers day in and day out while putting their own health at risk in the provision of vital services.
"Too often they are forgotten, but employers need to look after them. They are their greatest assets," she added.
The CX Company noted that aviation was one of the sectors worst affected by the global pandemic with the vast majority of flights cancelled.
But it said that negativity around the airline sector has been compounded by the failure of airlines to communicate clearly with customers and to put in place an efficient refund system.
Because of this Ryanair saw its CX score fall by over 28% and now has the lowest score ever recorded in Ireland. It also recorded the worst score for failure to meet expectations.
Aer Lingus, which has been beset by similar problems, also fared poorly in that regard while also falling 55 places and out of the Top 100.
---
---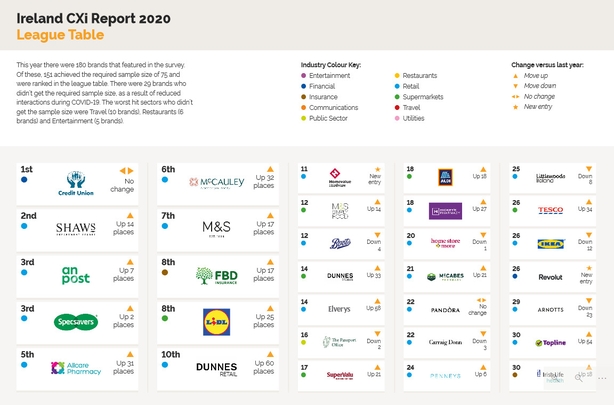 ---
Michael Killeen, chairman of the CX Company, said while both companies had faced enormous challenges, they owed a duty of care to customers.
"The appalling results for Ryanair - and to a lesser extent Aer Lingus - are down to the refund fiasco. Their approach was clearly focused on maintaining shareholder value rather than communicating with and compensating their customers," Mr Killeen said.
Other companies which posted high "fail to meet expectations" scores included Eir and Vodafone. Mr Killeen said new customers remained the main focus of these and other companies in the telecom sector.
"Whatever sympathy we might have for the airlines and the massive problems they and the hospitality / restaurant sector encountered, the same cannot be said about the telcos. While it's true their engineers did marvellous work in keeping so many of us online while we worked from home the other truth is that despite having a captive audience through the crisis, customer service levels and value for money remain very poor," he stated.
"While changing utility providers has improved greatly over the last couple of years the same cannot be said of the telcos but Irish consumers need to overcome their inertia, demand better service and vote with their feet," he added.
Michael Killeen also said that given the widespread closures which occurred during the lockdown one would have expected companies which focus on online orders / home deliveries to do well. But surprisingly many of them went into a complete tumble.
Oxendales, which was 4th last year, fell 70 places, Amazon and Deliveroo fell 47 places, Just Eat went down 40, today's index shows.
"These companies simply could not scale up to deal with the tsunami of orders which came their way. As a result, customers lost out and the companies missed an opportunity to expand and build a loyal base," Mr Killeen said.
The CX Company also noted that the financial sector recorded the greatest increase in entrants to the Top 100.
Last year the Credit Union was the only representative of the sector in the Top 100. This year it has five. It said that while it is positive that Irish banks have upped their customer experience game – AIB moved up 47 places, Ulster Bank 32 - the identity of the sector's strongest performers will be a concern to the main Irish banks.
This is because two out of three of the highest-ranking institutions are in fact new entrants. Revolut came in at number 26 while An Post Money came in at number 60.
The third is former building society EBS, now owned by AIB which jumped 52 places to number 55.
Media and communications companies also made it into this year's survey for the first time, such as Spotify, Whatsapp, Zoom and Twitter, reflecting the increasing importance of communications during the crisis.