A new report from the Central Bank shows that household demand for credit has recovered since the onset of the Covid-19 pandemic but it still remains below 2019 levels.
The Central Bank said that Covid-19 came as a "substantial shock" to households and the economy.
It noted that during the initial period of restrictions, over one million people were in receipt of state income support and almost 20% of all households reported lower income.
The Central Bank's Household Credit Market Report, which provides an up-to-date picture of developments in the household credit market, shows a drop of 11% in mortgage approvals by volume in August compared to the same time last year.
But this marked a big improvement from May when approvals were 62% lower.
Today's report also shows that 6.1% of Irish home mortgages and 4.3% of consumer loans were on a payment break in early September. The Central Bank noted that half of mortgage holders opting for the first three-month payment break did not require an extension.
The report said that mortgage payment breaks were most common among loans with a previous modification (40%).
Counties with high rates of pandemic unemployment payments, including in Kerry, Donegal and Dublin commuter counties, also had higher mortgage payment break shares, it revealed.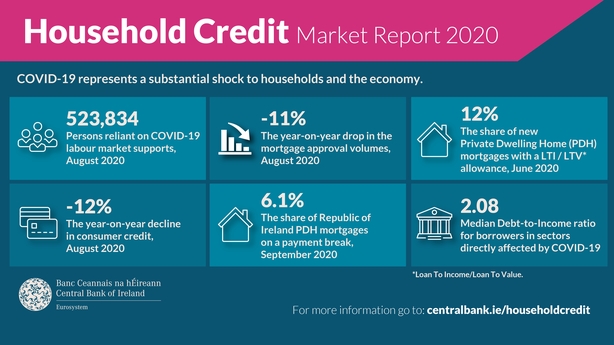 It also said that borrowers working in the most directly affected sectors from the pandemic outbreak had smaller mortgages, lower incomes, but higher debt-to-income ratios at the median, which suggested heightened vulnerability to the economic effects of the pandemic.
The Central Bank also said that loans issued since the introduction of the mortgage measures in 2015 were less likely than the average mortgage to be on a payment break.
Both first-time-buyers and second-time-buyers with high loan-to-income ratios had a higher propensity to be on a mortgage payment break, it added.