A cut in the tourism and hospitality VAT rate, an extra bank holiday, increased spending on marketing and grants of €120m are among the suggestions put forward by the taskforce established to look at ways of helping the tourism industry recover from Covid-19.
The Tourism Recovery Taskforce today published its Tourism Recovery Plan 2020-2023.
The taskforce was set up in May to develop a recovery plan for the tourism industry from 2020-2023 in recognition that this vital sector of the economy had been hardest hit by the Covid-19 pandemic. 
Tourism is among the country's most important indigenous economic sectors and supported 260,000 jobs before the Covid-19 pandemic hit the country in early 2020.
In many rural areas, it is the only employer of note outside of agriculture, the taskforce said today.
It generated about €9 billion for the Irish in economy last year, with over €6.9 billion of this via coming from overseas visitors travelling to and within Ireland, while domestic tourism generated something in the region of a further €2 billion.
Today's plan recommends that the VAT rate for tourism and hospitality sector should be cut from 13.5% to 9% with immediate effect.
It also suggests the introduction of legislation and regulatory measures to increase supply and reduce the costs of insurance. 
We need your consent to load this rte-player contentWe use rte-player to manage extra content that can set cookies on your device and collect data about your activity. Please review their details and accept them to load the content.Manage Preferences
The recovery plan says the Government should adjust the Employee Wage Support Scheme so that businesses struggling to retain employees can avail of the subsidy rates which applied for the Temporary Wage Subsidy Scheme.
It also calls for business continuity grants of €120m to enable key strategic tourism businesses survive the crisis with a focus on those with the greatest reduction in turnover in 2020.
Among its other urgent recommendations is the extension and modification of the Covid-19 Adaptation Fund by €30m to facilitate flexibility, such as increased outdoor dining capacity.
It also calls for €50m in Exchequer funding for next year which could be combined with a €100m credit facility from ISIF to create a €150m tourism specific loan scheme.
It said this would be jointly administered by Fáilte Ireland and ISIF and would allow long term viable but short term vulnerable tourism businesses to survive until demand returns.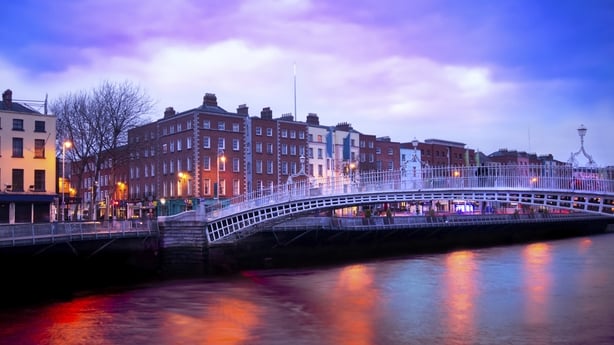 The TRT Recovery Plan, which was developed after an extensive consultation with the industry across the country, also called for an increase in domestic marketing spend from €10m to €30m in 2021 to drive demand for home holidays.
It also suggests doubling the overseas tourism marketing fund from €47m to €94m to help protect Ireland's existing brand position internationally and kick-start the recovery in inbound tourism with Covid-19 restrictions are lifted.
On international travel, the taskforce said the resumption of overseas tourism into Ireland should be facilitated "as soon as is practicable" and in line with public health guidance by identifying and communicating a targeted reopening date. 
It called for the removal of the period of quarantine for arrivals, advising that it be replaced by a comprehensive, rapid test, track and isolate (TTI) system or a system more facilitative for inbound tourism. 
It also said the Government should actively develop and fully commit to the forthcoming EU traffic light system that aims to open up international travel across Europe.
As part of efforts to supporting business survival in the tourism sector, the taskforce said in order to increase and spread domestic demand for holidays the timing of school holidays in different areas of the country could be varied to take advantage of capacity.
It also asked the Government to consider the merits of introducing an additional bank holiday in the off-peak season.
The taskforce said a comprehensive review of the country's tourism product should also be conducted, which would identify strengths, gaps, opportunities and impediments to inform future investment in the development of the visitor offering. 
Ruth Andrews, Chairperson of the Tourism Recovery Taskforce, said the impact of Covid-19 on tourism has been "existential" with the virus devastating employment, businesses and livelihoods across the sector.
Ms Andrews said that taking the necessary action now can save and restore jobs and income and avoid the need for long-term State intervention to support those left behind by the crisis.
"Re-opening tourism businesses and managing their recovery in a way that is economically viable, safe and attractive for tourists and local communities will require coordination at a level not seen before," Ms Andrews said. 
"The roadmap to recovery will require flexibility, agility, investment and innovation with a whole of Government commitment in strong collaboration with the industry," she added.
She said the tourism industry stands ready to play its part and secure a sustainable recovery for its long-term future. 
"The resilience and ability of the tourism industry and the people it sustains has been tried and tested in the past. Even in these incredibly difficult times, I and my colleagues on the Tourism Recovery Taskforce remain confident that the Irish tourism industry can recover and develop as a world leader in sustainable tourism practices," the chairperson said. 
"The prize is huge; the industry can return to providing over one quarter of a million jobs, particularly in Ireland's regions and generating over €9 billion for the economy. However, to do this, the Government's active support is needed now," she added.
Tourism Ireland has welcomed the publication of the Tourism Recovery Plan.
Niall Gibbons, CEO of Tourism Ireland, said Covid-19 has had an immediate and devastating impact on tourism and hospitality this year.
"Since the middle of March, we have had virtually no international visitors. I was therefore very pleased to be part of the Tourism Recovery Taskforce and to contribute to this extremely important plan, to help our sector survive this crisis and recover," he said
"I would like to thank Chairperson Ruth Andrews and all my colleagues on the taskforce for their hard work and contribution. This report sets out vital supports for our industry, in order to retain skills, capacity and assets to strengthen recovery," he added.