New figures from the Central Statistic Office show that the big reduction in consumption patterns resulted in a sharp spike in saving levels during the second quarter of the year due to Covid-19 enforced restrictions. 
The CSO said that household saving increased in the second quarter of 2020, despite a fall in people's earnings.
The CSO said the gross saving ratio rose to 35.4% in the three months from April to June from 17.2% in the first quarter.
The CSO said that self-employed income and workers' wages declined sharply in the three months from April to June, but noted that workers' pay would have been even lower if not for the subsidy the Government paid to employers in the form of the Temporary Wage Subsidy Scheme. 
The declines in wages and self-employed earnings were also to some extent offset by lower income taxes and social contributions paid by households, and the higher social protection payments, such as the Pandemic Unemployment Payment paid out by the Government.
It said because of this, people's seasonally adjusted gross disposable income was close to where it was in the first quarter. 
---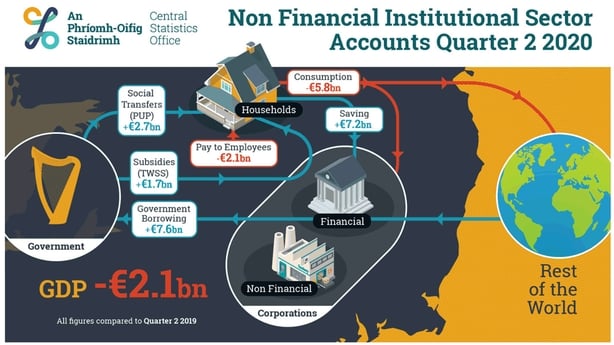 ---
But consumer spending decreased very sharply as Covid-19 restrictions came into effect and the CSO said that about one fifth of spending disappeared in the three month period. 
The derived saving ratio, which shows the relationship between saving and income, reached a record high as about €1 was saved for every €3 of income, the CSO added.