Households returned to a more normal pattern of saving in August, according to the latest figures from the Central Bank. 
The Central Bank has also published data on credit and debit cards which shows that while a recovery is evident in many sectors, overall spending levels are still down on last year. 
Households and businesses made deposits of €322m last month, well down on the average €3.3 billion in savings made each month from March to July. 
In the year to the end of August, household deposits have exceeded withdrawals by €11.4 billion or 10.5%, today's Central Bank figures show. 
Bank lending grew on an annual basis by €135m - the lowest annual net lending since mid-2017.  
Mortgages declined by €97m in the month of August. But in the year to August, the Central Bank said that mortgage lending grew by 1.1%.  
The bank's data on cards and ATMs shows that overall spending up to September 21 was running 5% below the levels in September last year.  
Detailed data for the month of August shows that card spending and ATM transactions totalled €6.5 billion, a marginal increase of 0.4% on August 2019.
However, it marked a decline of 1.4% compared to July.  
ATM transactions are up compared to the height of the Covid restrictions in April, but they are still 39% below August last year, the Central Bank said.
 
Meanwhile, the share of e-commerce transactions continued to decline as more shops opened. E-commerce accounted for €2.1 billion card purchases or 38% of sales, down from a high of 49% of in April.
---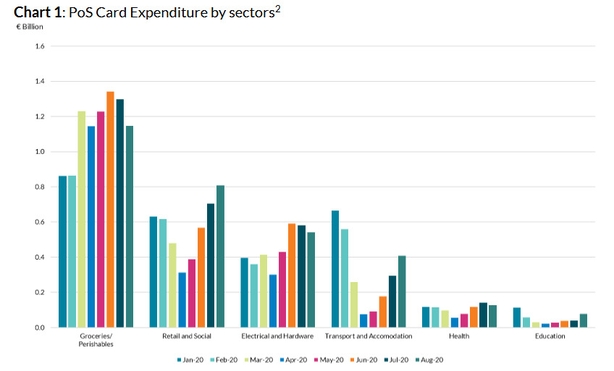 ---
The amount people spent on groceries continued to fall by 12% in the month but it is still up 30% on the year. Hardware also fell back by 8% in August but it was still 34% higher than in 2019. 
Despite significant increases in spending on services in August, spending levels are below the same month in 2019. 
Spending on accommodation was up 60% in the month but still lagged last year by 17%. Transport spending rose by 19% but is still down 52% compared to last year, today's figures also showed.
But the one bright spot is restaurants. Spending there rose by 28% in August and was 8% higher than the same month in 2019.