The former boss of Aer Lingus owner IAG has said the Irish Government has adopted one of the most extreme views on travel around Europe which has effectively shut the island down.
Willie Walsh said the approach of governments across Europe in stopping people from travelling has not done anything to stop the spread of Covid-19.
"One of the things that we saw in IAG before I left is there's a lot of demand for flying, it is just that people can't because of government restrictions."
"This is a classic example of where politicians and regulators who aren't as used to us in the industry at managing risk have taken an extremely risk averse view."
"And rather than allowing people to continue to travel in a sensible and organised way, they have just stopped travelling and it clearly hasn't done anything to stop the spread of coronavirus."
He said the drop in traffic at IAG reflects the environment in which its airlines have been operating. 
"So if you look at Ireland, the Irish Government have taken probably the most extreme view on travel around Europe, where effectively they have shut the island down," he said.
"Then you had the UK government introducing, removing, reintroducing restrictions on travel which has just caused total chaos."
Mr Walsh predicted that the airline industry will be smaller but more efficient in the future.
"It's never going to get back to the way it was," Mr Walsh, who retired as IAG CEO earlier this month, said in an online interview with Eurocontrol.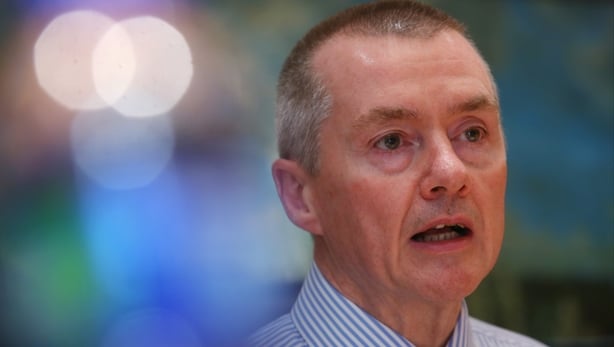 Looking five years ahead, Walsh forecast it would be a smaller industry and there would be fewer players.
Most of the consolidation would initially come through failures, he said, as he also predicted that Covid-19 would make airlines more resilient.
"Most airlines are restructuring in a very positive way: they're going to be more efficient and the cost base will be more variable, they'll be able to respond to crises going forward," he said.
Looking at the next few months though, he said it would be "very, very tough". Flight data shows that a hoped-for recovery in air travel in Europe has gone into reverse. 
Eurocontrol, Europe's organisation for the safety of air navigation, said that European airlines such as British Airways and Ryanair had shown traffic declines of 4% over the last two weeks. 
But striking a positive note, Walsh said that airlines should take comfort from the fact that there was still demand for travel. 
"People are comfortable getting on-board. What they're uncomfortable about is the uncertainty as to whether they're going to have to quarantine when they get to their destination or when they return from their destination.
"That's really what's undermining customer confidence," he said. 
---
---
Mr Walsh said he does not see anyone in the industry seeing the current situation as an opportunity, as it is going to hurt everyone and nobody will be immune.
But he said there will always be airlines who will take advantage of situations like this.
"Michael O'Leary timed it brilliantly back in 2001," he said.
"I've no doubt he will think of doing the same this time around."
On Brexit, Mr Walsh said whatever happens the UK and Europe will have a close relationship.
"It is going to be difficult getting there and I think it may take some time to build that relationship up," he said.
After 41 years in the airline industry, former pilot Walsh, who is 58, was CEO of IAG from 2011 when it was founded. He was also a former CEO at Aer Lingus.
He handed the reins to Spanish insider Luis Gallego on September 8.
"I've surprised myself at how easy it has been to adapt to retirement," Walsh said when asked about the last few weeks.
- Additional reporting Reuters