Shoppers are starting to return to more normal habits following the unprecedented spending seen during the height of the Covid-19 pandemic, new figures suggest today. 
The figures from Kantar show that take-home grocery sales growth in Ireland slowed to 13.7% year on year during the 12 weeks to September 6. 
But Kantar also cautioned of tentative signs that the market may accelerate again in the short term, as local lockdowns take effect around the country.  
While grocery sales over the past 12 weeks remain significantly higher than pre-pandemic levels, shopping routines are now much closer to what would be usually expected compared to April and May. 
Kantar said that people are visiting supermarkets more frequently than they have since June, at an average of 19 times over the course of the past four weeks. It said this indicates an increased sense of security among shoppers since face coverings were introduced at the start of August.
"However, it's a slightly more nuanced picture when we look at what the latest four weeks of sales might mean for the market going forward," Emer Healy, a retail analyst at Kantar, said.
"An additional €19m spent on groceries during the past month coincides with the start of a number of local lockdowns. This suggests that local restrictions are already making their mark - with people in certain parts of the country spending more to stock up on food and drink to consume at home," Ms Healy added.
She noted that in the latest 12 weeks, Dublin has seen the strongest growth of all the regions, with shoppers in the capital spending an additional €141m on groceries compared with last year. 
"It will be interesting to see what effect the local lockdown could have on grocery sales as shoppers navigate new restrictions," she added.
Today's figures show that the popularity of online grocery shopping continues, and online sales grew by 121.7% over the latest four weeks.
"This represents another month of record-breaking growth for the online channel and digital sales added €72.9m to the total market in the latest 12 weeks.  New shoppers accounted for almost a quarter of the €133.6m spent on online groceries during that time," Ms Healy said.
All the retailers benefited from the reopening of schools this September, which was a significant step toward normality after an extraordinary summer. 
---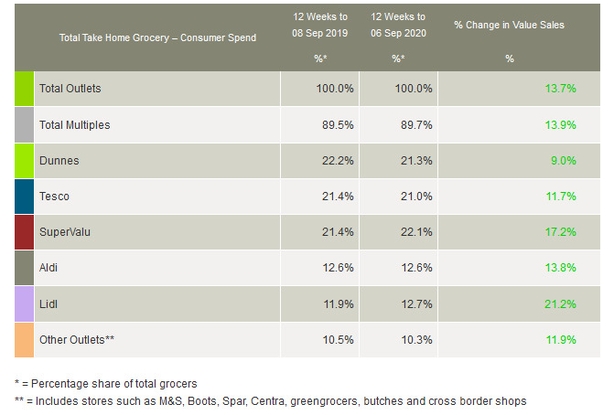 ---
Dunnes especially cashed in on the back to school trend as households with children increased their spend in the store by 9% and the grocer performed the best of all the retailers in sales of many typical packed lunch items and the supermarket group now holds the second highest market share of all the grocers.
Boosted by comprehensive online offers, Kantar said that SuperValu continued to grow ahead of the market and holds the biggest share of spend at 22.1%, while Tesco registered a 21% market share.  
During the latest period under review, Kantar said that consumers stocked up on easy breakfast and packed-lunch options, with sales of baked morning goods up 11% and lunch box staples like yoghurt drinks and juices growing by 17%.  
Kantar said that one marked difference this year is that facial tissues and wipes have become a must-have for children's backpacks, growing by 2% and 15% respectively.