The reopening of pubs is a welcome boost for small craft brewers across the country who rely predominantly on draught sales.
Treaty City Brewery is a small batch manufacturer based in the medieval quarter of Limerick City, where they produce artisan beers for the local and national market.
"We're high end, we're an artisan, handmade product so we don't add preservatives or additives, there's nothing in our beer that can extend our shelf life. There's a lot of macros out there, and you can just park the beer, we don't do that," said its owner Stephen Cunneen.
Stephen Cunneen returned from Canada to set up a micro brewery in his native city four years ago.
The first batch of beer was brewed in 2016, and Treaty City Brewery was building a reputation in the craft beer market when Covid-19 hit.
"We're getting ready for the opening on Monday," he explained on Friday. "The beers are being filled today, so the kegs that people will be drinking on Monday in Mother Macs or Nancy Blakes, will be filled today, so the supply chain is very tight."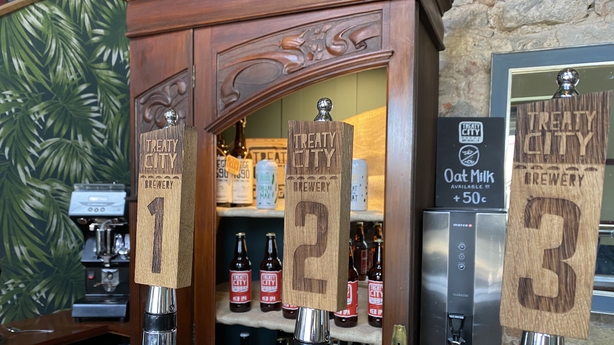 Around 80 to 85% of Treaty City Brewery's sales are draught sales in pubs, and Mr Cunneen said it was massive loss to the business over the last six months.
"We are delighted that the pubs are opening up, but we have been here before. This is our third time going onto this roundabout, but yes, in general terms, we are delighted to have them back."
To survive the shutdown of its main customers - pubs - Treaty City Brewery had to find other revenue streams and found a new market online.
The brewery's social media channels are normally used to show people its new beers. Those platforms changed to facilitate sales and the business started taking orders by direct messaging.
"We ended up rebuilding our website, and it helped us to discover a whole new market. I think we've produced 18 different styles of beers since Covid hit. That's a massive volume of beers," he said.
"That was one of the conversations I had with Gustavo, the master brewer. We have these beers that we always wanted to brew, and we found that people were interested in those beers and it did develop and it did open a new revenue stream for us."
Treaty City Brewery garnered a name for "the experimental stuff".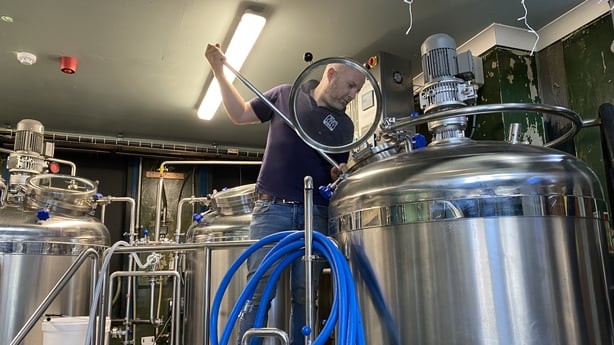 "I don't know if you'd call it a silver lining but we did get a revenue stream and it was definitely positive for us."
Pubs are the brewery's biggest customers and Mr Cunneen worries about the future and any further tightening of restrictions, as seen in Dublin.
"That was our core business. It's where we want to get back to. It's a risky strategy because if we have to bin another batch or two batches of beer because it's not being sold, I don't know if we can survive that.
"It's a very nervous time. I have to be the general and I have to put on the brave face, but when I go home at night, it does keep me awake at night. I'll put it that way to you."