The number of property transactions recorded a big drop in July, according to the latest figures from the Central Statistics Office, as Covid-19 continued to impact the housing market.
The CSO said that a total of 2,561 household dwelling purchases were filed with Revenue in July, a drop of 40.7% compared to the 4,316 purchases in July of last year.
However, the number of home purchases in July was up 12.9% on June, the CSO said.
Today's figures from the CSO show that residential property prices fell by 0.5% on an annual basis in July, with prices in Dublin declining by 1.3%.
Residential property prices in the rest of the country, excluding Dublin, were 0.2% higher in July compared to the same time last year.
The CSO said that Dublin house prices decreased by 1.2% and apartments increased by 0.4%.
It noted that the highest house price growth in Dublin was in Dun Laoghaire-Rathdown at 1.3%, while Dublin City saw a decline of 2.7%.
Meanwhile, house and apartment prices in the rest of the county saw growth of 0.3% in July.
The region outside of Dublin that saw the largest rise in house prices was the South-West at 4.3%, while at the other end of the scale the South-East reported a 1.6% decline.
The CSO said that property prices nationally have increased by 83.5% from their trough in early 2013.
Dublin residential property prices have risen 91.4% from their February 2012 low, while prices in the rest of the country are 83.6% higher than at the trough, which was in May 2013.
Today's figures show that households paid a mean price of €295,825 for a home on the residential property market in the 12 months to July.
---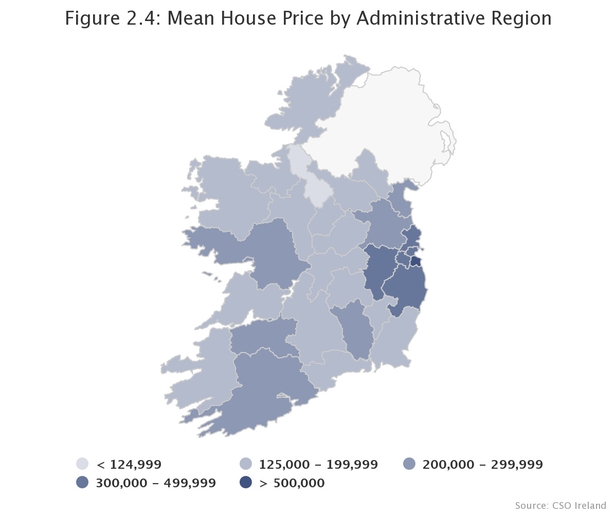 ---
The mean price in Dublin stood at €443,115 and was the highest in any region or county.
Dún Laoghaire-Rathdown had the highest mean price in the Dublin region at €607,667, while South Dublin had the lowest at €363,330.
Outside of Dublin, the Mid-East was the most expensive region, with a mean price of €303,275. Wicklow was the most expensive county in the Mid-East region, with a mean price of €371,274.
The Border region was the least expensive region in the year to July 2020, with a mean price of €146,117. Leitrim, in the Border region, was the least expensive county, with a mean price of €120,232.
House prices have stabilised over the last 18 months, having shot up for five years following a crash just over a decade ago.
Property prices increased by 0.3% in July compared to June, the CSO said.