Activity in the construction sector declined for the first time in three months in August, according to the latest monthly measure from Ulster Bank.
The industry had bounced back in the preceding months as Covid-19 restrictions were lifted and construction sites gradually got back up and running again.
The Ulster Bank Purchasing Managers Index - which measures activity on a scale of 1 to 100 - fell to 44 in August, below the 50 break even point that separates growth from contraction.
"The recovery in Irish construction activity showed signs of stalling in August according to the latest results of the Ulster Bank Construction PMI," Simon Barry, chief economist with Ulster Bank said.
"Following two months of post-lockdown increases in activity in June and July, respondents reported that overall activity slipped back into contraction territory last month, albeit that the pace of contraction was nowhere near as severe as during the peak of the crisis in April and May," the economist said.
All of the sub sectors - housing, commercial and civil engineering - recorded declines in activity.
New orders also fell back, having registered strong growth in July.
Mr Barry pointed out that some firms had continued to report ongoing recovery in activity and orders.
However, last month that was more than offset by those who reported declines in both.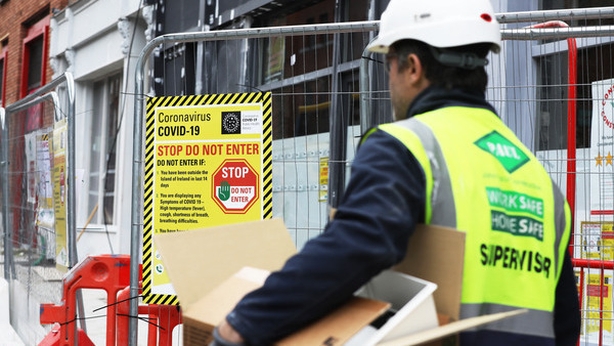 "High levels of market uncertainty linked to the effects of the pandemic and some recent signs of a cooling in the wider economy's recovery momentum weighed on the August results, including in relation to sentiment about the sector's future prospects," Simon Barry said.
He said there was general optimism about the outlook for the year ahead, reflecting the expectation that the economy's recovery would remain on track, notwithstanding the risks.
"Furthermore, with leading indicators such as the housing commencements data continuing to point to further upside for housing output, we would be surprised if the Housing PMI in particular doesn't show renewed improvement in the months ahead."
Stockbroker Goodbody, which compiles a quarterly report on housing output, said it expects housing completions to fall by a fifth this year.
It expects 16,500 units to be completed this year with 19,500 next year.
The Central Bank estimates that 34,000 new units per year will need to be constructed for the next decade in order to meet demand.