The chief executive of Dublin airport operator daa has warned the company has lost nearly €150m so far this year as a result of the collapse in the aviation sector due to Covid-19.
Dalton Philips also said there is a very strong case for the introduction of pre-departure Covid testing and serial spot checking on passengers arriving here.
Speaking to an Irish Tourism Industry Confederation webcast, he said the impact of the pandemic on operations had been "devastating".
In August of last year Dublin airport had 3.5 million passengers pass through it, but this year it had just 500,000 during the same month, he said.
Every day last year around 100,000 passengers on average used the airport, but this year the average has been around 16,500.
He added that the load factors of the 31 airlines operating at Dublin are at 39%, but this time last year it would have been around 90%.
"We're losing over €1m every single day, we're fast approaching losses this year of €150 million year to date. It's devastating," Mr Philips said.
He said Ireland has a geographic strategic advantage as a bridge between Europe and the US, but at the moment the country is totally cut off.
"The Green List, welcome as it was, represented 10% of our total traffic, so we have to get the country going again and we have to balance the different interests between health and the economy. But at the moment we're strangling the country," he claimed.
He said a risk assessment would be required but that there is merit in looking at pre-departure Covid-19 testing for arrivals at our airports, similar to that being introduced in Germany and Austria.
"I think we can quickly adopt this whereby if you are travelling to Ireland you would do a pre-departure Covid-19 test 72 hours in advance," he said.
"Similar to travelling today with an ESTA or yellow fever passport you would have to present that at boarding and obviously when you arrive into Dublin or Cork, or Shannon for that matter, you would present it at immigration and you would be allowed through and you could have a systematic testing regime in place where you could be testing X hundred people each day as they come through," he explained.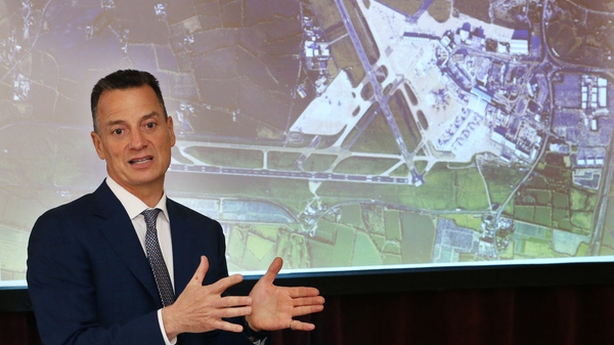 "That would open up, particularly these red list countries, and we could do that in a risk assessed way, for example we could start with the US," he added.
He added that the reality is that to test everybody on arrival is just not practical, and no country has done this.
Mr Philips said he would like to see some of the Government's aviation taskforce recommendations put in place, particularly on the financial aspects.
He also said that he does think that in the long-term traffic will come back and the overall ambition remains the same for Dublin airport and its expansion.
"But we are having to think about how we allocate our capital," he said.
He said work is continuing on the second runway and it will be completed in the first quarter of next year, but other projects are being re-evaluated.