New figures from the Central Statistics Office show that the Covid-19 crisis continues to have a "significant" impact on the labour market here.
The CSO's latest figures show that the unemployment rate, including those receiving temporary Covid-19 jobless benefit, fell to 15.4% at the end of August from 17.6% a month earlier.
The jobless rate, which stood at 4.8% before the crisis, hit a record 28.8% in April after 600,000 people claimed the special payment.
However the pace of decline has slowed and 225,000 people were still claiming Covid-19 benefits at the end of last month.
When those on the Covid-19 payments are excluded, the CSO said the unemployment rate rose to 5.2% in August from 5.1% in July.
These payments are due to expire next April.
The CSO said the seasonally adjusted number of people who were unemployed stood at 121,200 in August, compared to 118,600 in July 2020.
When compared to August last year, there was an annual increase of 1,400 in the seasonally adjusted number of people without a job.
The monthly unemployment rate for men and for women stood at 5.1% and 5.3% respectively.
---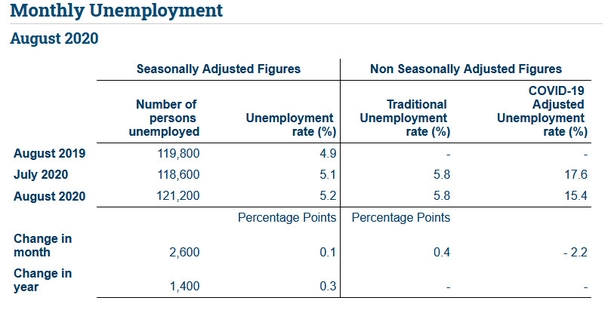 ---
Breaking the results down by broad age group, the CSO said the traditional monthly unemployment rate for those aged 15 to 24 years was 17.5% in August, while it was 3.8% for those aged 25 to 74 years.
Commenting on today's figures, Jack Kennedy, economist at global job site Indeed, said they indicate a further positive downward trend in the Covid-19 adjusted unemployment rate, which stood at 15.4%.
He said the general decrease can be attributed to the continued reopening of businesses as those on PUP are able to return to work.
"Even with pubs due to reopen, it's possible that some of those counted in the temporary Covid adjusted figure will transfer into the standard unemployment category as confirmation of job losses occur," Mr Kennedy said.
With positive cases rising, and the threat of another lockdown looming, it will be a testing time for those trying to keep businesses open and staff employed, he added.
The economist also said that the next few months will be challenging for graduates, who are facing an entirely different job market than those who qualified just a year earlier, when the economy was nearly at full employment.
"As is a common theme in recessions, young people tend to be among the worst affected - youth unemployment still remains exceptionally high at 37.8% on the Covid-19 adjusted measure," he stated.