A new survey reveals that 60% of employees in Ireland are feeling more stressed since the onset of Covid-19, with 67% of women reporting increased levels of stress compared with 45% of men. 
The survey was carried out by the Department of Work and Employment Studies at the Kemmy Business School, University of Limerick on behalf of OMT Global.
It also found that 49% of women are finding it difficult to balance work and home life compared with 35% of men.  
51% of all employees reported feeling less connected to their teams when working from home. This is supported by managers with 50% of them reporting that their employees feel less connected to their teams. 
Employees and managers have expressed concerns that the social aspect of work will significantly diminish in the future.
This will impact team motivation, engagement and the opportunities to collaborate that are vital to meeting the commercial challenges businesses face right now. 
The findings of today's survey indicate a clear preference for blended working arrangements in the future with 69% of employees indicating that they would prefer a blend of working from home and being onsite. 
86% of managers also recognised that this is the option that their employees want.
But 61% of employees said they were concerned about their safety in returning to the workplace due to Covid-19. 
Mark Doyle, chief executive of OMT Global, said the survey findings are "a wake-up call" for senior leaders as the stress levels being experienced by employees, particularly women - are not sustainable. 
"We are in danger of seeing employee burnout in the very near future, potentially eroding the huge strides made in improving female participation and progression in Irish workforces," Mr Doyle said. 
He also said the fact that employees are feeling increasingly disconnected from their teams and their organisations is of great concern.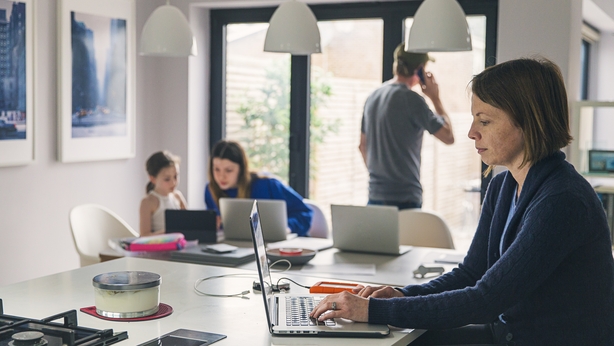 Claire Harnett, a lecturer and PhD scholar at the Kemmy Business School, said the changes Covid-19 has imposed on the world of work are here to stay in some format, with a large share of companies preparing for a blend of working from home and onsite. 
Ms Harnett said this is going to require strong organisational leadership and a review of HR practices.
"The need for the development of flexible work options was a strong theme in the findings of the survey. Senior managers need to engage with their employees and middle management to develop flexible working options that will address a range of their needs going forward," she said.
"The survey highlighted the important role that line managers play in the sense of value and loyalty that employees feel. In order to prevent further disconnect from the organisation, the needs of line mangers need to be met so that they can feel confident in managing teams remotely," she added.
Dr Sarah Kieran, researcher and lecturer at the Kemmy Business School, said the Covid-19 pandemic has accelerated many positive things around the digital transformation of work and flexible working. 
But at the same time, many businesses are in crisis and many managers and employees are experiencing significant stress. 
"It is incumbent on business leaders to learn from surveys such as this and make the right decisions so that how we shape the new world of work is positive and sustainable for all," Dr Kieran added.
The survey targeted employees and managers working in small, medium, and large organisations across all business sectors.
There were 590 respondents - 45.5% were employees, 26.7% were middle or  line managers and 27.8% were senior managers. 39.3% of respondents were male and 60.7% were female.