"We were the first hit and the hardest hit when this pandemic happened," says Linda McNamara who runs Ace Travel in Newcastle West, County Limerick.
The only holidaymakers she sees these days are those passing her business on South Quay on the road to Kerry.
She employed six people in Ace Travel before the pandemic, thee full-time and three part-time.
After 21 years operating a successful travel agency in the town, Ms McNamara and her one remaining colleague were left with no choice but to reduce their hours to two days a week and apply for Job Seeker's Benefit.
The travel agency is open but it cannot trade because people are heeding Government advice to avoid non-essential travel. The business is also heeding that advice, and they are working to secure refunds for customers instead.
"At the moment we cannot take bookings. It's too high risk for our industry," she said.
"If you take a booking now, and you send someone to a country on the green list and if that country is taken off the green list, then we are in a dilemma because we have to get our customers out of there. It is just too risky," she said.
"It would cost us a fortune to repatriate somebody. I think you'll find every travel agency in the country is not taking bookings for the safety of their clients," she added.
The travel industry has been forced into lockdown, according to the CEO of Irish Travel Agents Association, Pat Dawson.
"We have had no income whatsoever," Mr Dawson said. "A lot of the Government's assistance was based on a 25 to 30% loss in turnover. We're actually at a 120% loss in turnover because we are now burning into any reserves that companies have.
"As the pubs described what they got, at least they got crumbs, we got nothing," he said.
The cessation of the Temporary Wage Subsidy Scheme earlier this week, which saw employees get €350 a week, is now reduced to €203 a week if employers registered for the Employment Wage Subsidy Scheme.
This has led to lay offs and reduced hours for travel agencies.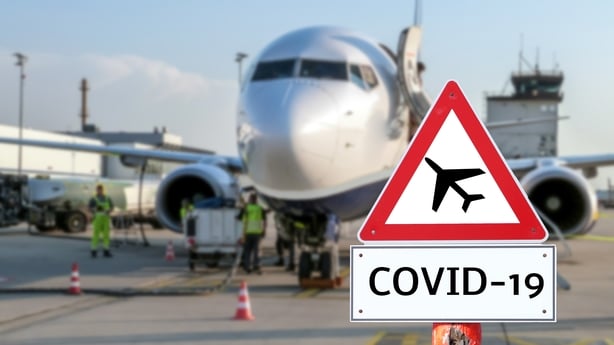 Tom Britton, from Marble City Travel in Kilkenny said it has led to conversations in the office with staff who were willing to work for €350 a week on the TWSS.
"Now we're saying you can have two days wages based on the Employment Wage Subsidy Scheme and because they are in receipt of jobseekers for the rest of the time, they can't come into the office".
"We've reduced our operation by two fifths and that is going to cause a problem because we can't do what we are supposed to do and that's to be there for our customers," he said.
The work of travel agents now has been securing refunds for customers from resorts, hotels and airlines.
They were successful on their customers behalf for the most part, even holidays that were non-refundable when booked, have returned refunds.
Travel agents have had difficulty getting refunds from one airline in particular, Ryanair. Ace Travel has not received a refund from the airline since April.
"July 7th is the date I have chalked in my mind as the last date we got a refund from Ryanair," Mr Britton said.
"Since then there has been a skirmish of regulations, counter regulations and consumer affairs getting mixed into it all.
"It's like being a parrot, we keep on having to repeat the same information, then we get a copy of a voucher that a customer doesn't want, and we're back to the beginning again and the application starts from the top."
Ryanair did not respond to a request for a comment on this issue.
But despite what appears to be insurmountable challenges for the industry, Tom Britton remains optimistic for the future.
People did not travel abroad on holidays, and while many enjoyed breaks in Ireland, travel agents are confident the demand is there for their services.
"We are very conscious of the fact that people didn't travel this year. People have saved money. If you did a poll, travel is the one thing that people missed," he said.
"The fact that we've looked after our customers this year, we will see them back next, probably stronger numbers than we've seen before," he said.