Spending on credit and debit cards has continued to rise in August and is now above the daily average during August of last year, new figures from the Central Bank show.
However, ATM withdrawals remain significantly down on last year.
This has dragged down the overall daily card spend, which includes ATM withdrawals, to 3% below what it was in August 2019.
But compared to its low point in mid-April, card spending is up 63%.
The Central Bank has today published statistics which detail card payment data for July and some initial figures for this month - up to August 24.
The Central Bank said that debit and credit card spending has remained 'relatively stable' in August with the daily spend up 9% on the same month last year.
However, ATM withdrawals are down 31% compared to last year so the overall spend is still lower than August 2019.
The third phase of the lifting of restrictions in July was clearly evident in last month's card payments.
Retail spending remained relatively static compared to the previous month with clothing up 9% but groceries down 3%.
However, the spend on groceries remains 36% higher an annual basis.
Spending on electrical goods and hardware also declined slightly in July by 2% but both sectors remained over 30% higher than in July last year.
There was, however, a jump of 160% in spending on accommodation and a 24% increase on transport.
But spending in both sectors is still way below what it was in July last year, with accommodation down 51% and transport slumping 66% an annual basis.
Spending in restaurants was up 56% in July but remains 20% below last year.
---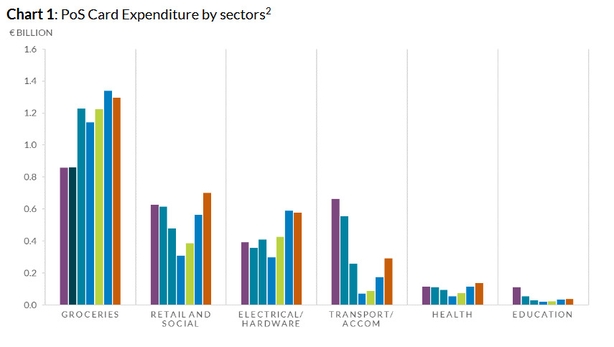 ---
The switch to spending on services by consumers may have contributed to the spend on ecommerce remaining pretty static last month at €2.2 billion, which is up 1% on June.
But e-commerce is still up 16% compared to last year and now accounts for 41% of total card expenditure, the Central Bank said.