Almost two-thirds of businesses are concerned about another lockdown, according to the latest survey from the Central Statistics Office on the impact of Covid-19 on business.
The fifth survey in the series, found that more than half of businesses (54.3%) have introduced mandatory Personal Protective Equipment in the workplace, while 45% have provided protective screens for staff.
More than half of enterprises had lower than normal turnover during the four week period of the survey, between June 29 and July 26, and there is concern among business owners that there will be reduced demand due to lower consumer confidence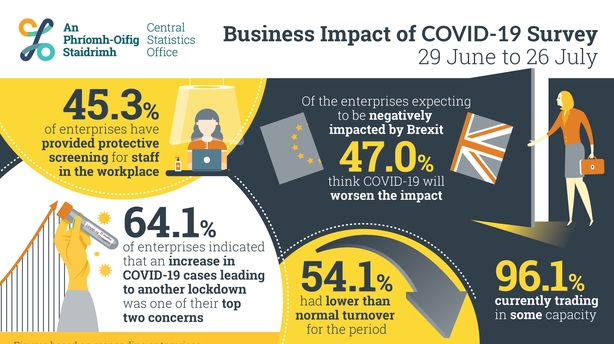 Statistician, Colin Hanley, said 96.1% of responding enterprises were trading in some capacity on July 26, 3% had temporarily ceased trading while 0.9% had ceased trading permanently.
"An additional question was introduced to the fifth wave of the survey related to business costs exceeding turnover from the beginning of the lockdown on 16 March to 26 July. Of the responding enterprises, 20.4% reported that business costs had exceeded turnover during this period."
An average of 59.2% of staff worked remotely for office based enterprises, compared to an average of 13.7% of staff which worked remotely for non-office based enterprises.
Mr Hanley said it is important to note that the results presented in the survey represent responding enterprises only and are unweighted. He thanked respondents to date for their ongoing participation in the survey.
The sixth wave of the CSO's Business Impact of Covid-19 Survey will be distributed on August 24, 2020.