Residential property prices increased 0.3% on a monthly basis in June, the first monthly growth since the start of the year, new figures from the Central Statistics Office show today.
That helped keep annual price inflation just about in positive territory with growth of 0.1%, the CSO said. 
But while housing transactions have recovered faster from the Covid-19 lockdown than many analysts predicted, purchases filed with Revenue were still down over 33% year-on-year in June, the CSO noted. 
Today's figures show that Dublin residential property prices saw a decline of 0.7% in the year to June with house prices falling by 0.9% while apartment prices rose by 2.4%. 
The CSO noted that the highest house price growth in Dublin was in Dun Laoghaire-Rathdown at 0.1%, while South Dublin saw a decline of 2.7%.
Meanwhile, property prices in the rest of the country increased by 0.9% in the year to June, with house prices up by 1.2% and apartments down by 1.3%. 
The region outside of Dublin with the biggest rise in home prices was the South-West with growth of 6%. At the other end of the scale the South-East saw a 0.7% decline in prices.
Today's figures showed that households paid a mean price of €296,311 for a home on the residential property market in the 12 months to June. 
The mean price in Dublin at €440,941 was the highest in any region or county. Dún Laoghaire-Rathdown had the highest mean price in the Dublin region at €601,214, while South Dublin had the lowest at €364,060. 
Outside of Dublin, the Mid-East was the most expensive region, with a mean price of €305,525. Wicklow was the most expensive county in the Mid-East region, with a mean price of €370,789. 
The Border region was the cheapest region to buy a home in the year to June, with a mean price of €146,282.
Leitrim (in the Border region) was the least expensive county, with a mean price of €118,001.
---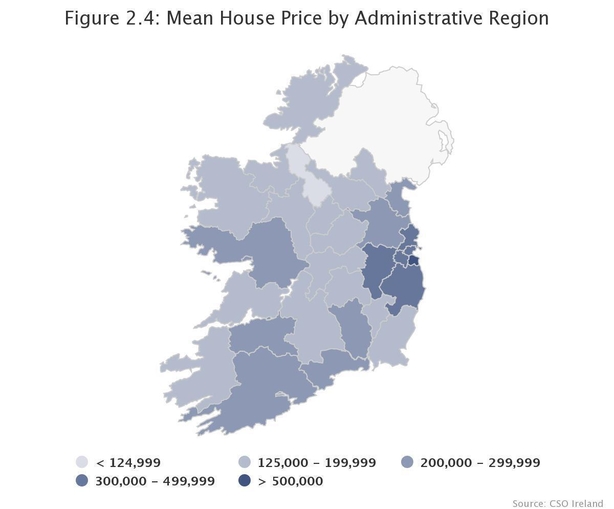 ---
The CSO also said that a total of 2,268 home purchases were filed with Revenue in June - a drop of 33.1% compared to the same month last year.
However it marked a 17.1% increase compared with May of this year during the widespread Covid-19 restrictions. 
Today's figures also reveal that existing homes accounted for 81.1% of the purchases filed in June, a decrease of 33.9% compared to June 2019. 18.9% were new homes, a decrease of 29.4% compared to June last year.
House prices have stabilised over the last 18 months having shot up for five years following a crash just over a decade ago. Prices have not fallen on an annual basis since May 2013.