The number of mortgages approved in June rose by 20.4% on a monthly basis but slumped by 49.5% compared with the same time last year, new figures from Banking and Payments Federation Ireland show.
Today's BPFI figures also show that the value of mortgage approvals in June rose by 21.3% month-on-month but fell by 48% year-on-year.
A total of 2,263 mortgages were approved in June with 46.8% of these for first time buyers while mover purchasers accounted for 24.6%.
Meanwhile, a total of 6,622 new mortgages to the value of €1.462 billion were drawn down by borrowers during the second quarter of 2020, the BPFI said.
This represents a fall of 34.8% in volume and 35% in value on the same time last year. 
First-time buyers remained the single largest segment by volume (49.6%) and by value (50.3%) during the three month period from April to June. 
Brian Hayes, chief executive of BPFI, said its figures show that mortgage drawdowns have held up relatively well in the second quarter of this year despite the overall downward trend and scale of disruption to the economy. 
"In the current volatile environment, we do not expect the market to follow the normal seasonal patterns so the rest of the year will be difficult to predict," Brian Hayes said. 
"However, it is likely we may see a bigger Covid-19 impact in our next set of quarterly drawdown figures due to the time lag between mortgage applications, approvals and drawdowns," he added.
He said that looking at the approvals figures for June, while the year-on-year figure was well down, almost 50% on this time last year, activity in June did see a 20% increase on May.
---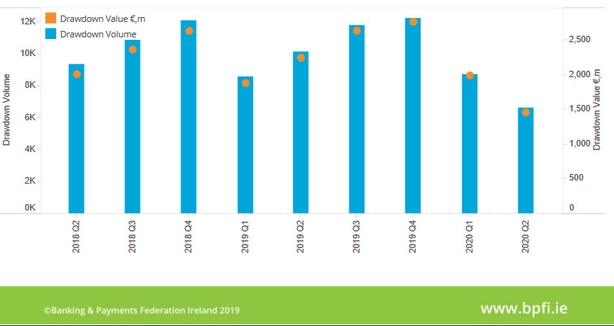 ---
"The increase indicates a level of resilience and robustness in the market which has been bolstered by the removal of some Covid-19 restrictions since mid-May. However, any indications of a recovery need to be treated with caution as it is early days in the economic journey," the BPFI CEO said.
Brian Hayes said that lenders are continuing to approve new mortgage applications and so consumers should actively proceed with mortgage applications where their incomes and employment circumstances have not been impacted by the current pandemic and where they meet the normal lending criteria.
Dermot O'Leary, chief economist with Goodbody, said while the decline in mortgage drawdowns was not as bad as feared, applications continue to be weak, suggesting that the full impact on the market has yet to be seen.
"Mortgage drawdowns fell by 35% year on year in the second quarter. While this is clearly a large decline, it must be seen in the context of an economy that was effectively in lockdown for most the period," he said.
Approval trends continued to show weakness into June, he pointed out, adding that they were a timelier indicator of market activity.
"Mortgage approvals have fallen by a greater extent than mortgage drawdowns, suggesting that the impacts of the pandemic will continue to linger in the coming months."
Goodbody revised upwards its full year mortgage lending forecasts to €6.9bn from €5.7bn previously.
That would still represent a decline of 28% on 2019 levels.
Davy, in its analysis, described the figures as a 'mixed bag'.
Chief economist Conall Mac Coille said while approvals remained weak, mortgage drawdowns of €1.5 billion were stronger than forecast.
Approvals showed a slow rebound in June and Mr Mac Coille suggested that the indicators pointed to a stronger market in July.
"The weak approvals data in June jar slightly with more positive indicators on the housing market, suggesting that banks have been slow to get up and running," he said.
"On balance, we are still happy with our forecast for a €7bn mortgage market in 2020, with activity likely to pick up through the remainder of the year."