The cost of building a three bedroom semi-detached house in Dublin has increased by €41,000, or 12%, over the last four years, a new report shows today.
The report on the cost of delivering houses carried out by the Society of Chartered Surveyors Ireland shows that the average home in now around €25,000 more than a couple on average incomes can afford.
The cost of building a new home now stands at €371,000, according to the Society of Chartered Surveyors Ireland.
VAT adds some €44,000 to the price of a house, it added.
The report said the increase in the costs of building a house has been mainly driven by an increase in "hard costs" - bricks and mortar - which rose by 19% or €29,000.
"Soft costs"- land, development levies, fees, vat, margin - increased by just 7%, or €12,000, it added.
The Society of Chartered Surveyors Ireland said it was important to note that the figure of €371,000 does not take account of "abnormal costs" that are often encountered when dealing with contaminated sites, difficult topography or any other case specific site challenges.
"Abnormal" costs are a regular feature of development and on average, can amount to as much as €15,000 per unit.
It also said that the Covid-19 cost is a new factor that has not been captured in the overall delivery cost figure.
As a result of new health and safety protocols the costs associated with social distancing and the provision of PPE gear and associated hygiene facilities will have to be borne by the sector.
The SCSI said it plans to report on this cost element when sufficient data is available.
We need your consent to load this rte-player contentWe use rte-player to manage extra content that can set cookies on your device and collect data about your activity. Please review their details and accept them to load the content.Manage Preferences
It also said it believes the Help to Buy scheme should continue to assist first time buyers with deposit requirements.
Consideration should also be given to the introduction of a shared ownership scheme – similar to the UK model – to assist those looking to get on the property ladder, it added.
Micheál Mahon, incoming President of the SCSI, said the housing crisis will not be resolved until the critical balance between affordability for consumers and viability for developers is addressed.
"New private housing supply will only increase to meet demand when the affordability/viability issue is placed at the centre of housing policy development and critically, it must be based on a detailed examination of the real costs of housing delivery," Mr Mahon said.
He said that if the Government is serious about tackling the housing crisis and building the 30,000 to 35,000 homes which are required it needs to tackle the significant increases which have occurred in housing delivery costs as a matter of urgency.
"The current model will not deliver the volume of homes we need which is between 30,000 and 35,000 a year," he stated.
"There is a major affordability gap for first time buyers trying to purchase a home in line with Central Bank regulations and this gap raises serious questions over the viability of new house building," he added.
Mr Mahon said the SCSI does not believe there is a single solution to this problem and is advocating a multifaceted approach, including the establishment of a Commission on Housing – as set out in the Programme for Government - to review the tax treatment of new housing.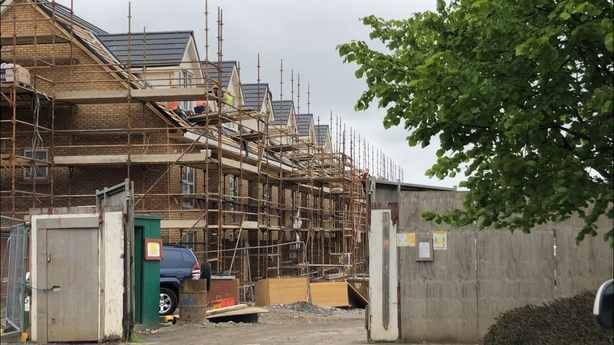 He pointed out that VAT makes up 12% of the total cost of a new home, while in the UK there is no VAT on new houses.
The Commission would also examine the cost impact of the public procurement process, and review best practice in relation to new regulations and how the cost implications, particularly in the area of water connections and other utilities can best be managed.
"All new regulations and statutory measures should undergo an independent cost benefit analysis to assess their cost impact and potential benefits to the consumer," Mr Mahon said.
The Irish Homebuilders Association also today warned that the rising costs of building new homes are unsustainable with new homebuyers being hardest hit.
The IHBA is a constituent association of the Construction Industry Federation and represents hundreds of home builders of all sizes across Ireland.
James Benson, spokesperson for the IHBA, said that based on the latest data available, backed up by what its members are seeing on the ground, it is likely that only 14,000 new homes will be completed in 2020.
This compares to over 21,000 last year and will bring the industry back to building levels not seen since the 1970s, James Benson said.