New figures show that grocery sales in Ireland increased by 23.2% during the 12 weeks to July 12, as Irish brands like Barry's Tea, Keelings, Kelkin and Keogh's all experienced a sales boost. 
Kantar said that three months of increased spending meant an additional €577.7m passed through supermarket tills. 
Today's figures show that shoppers are continuing to treat themselves at home, with sales of savoury snacks and confectionery up 45% and 35% respectively in the most recent 12 weeks. 
Kantar said that in an uncertain time, people looked to tried and trusted favourites to provide their stay-at-home comforts with brands outpacing own-label alternatives.
An additional €345m was spent on household names in the latest three months, it added.
Sales of alcohol in supermarkets grew by 76% in the latest 12-week period despite the re-opening of restaurants and some pubs.
Kantar also noted that as many people attend fewer social gatherings, as well as continuing to work from home, deodorant sales are down 15% compared with the same time last year.
Sales of sun cream also sank by 66% as international travel was off the agenda for most people.
But Kantar said it was seeing signs that shoppers are tentatively beginning to return to pre-lockdown behaviour as restrictions were eased and non-essential retail was reopened in the latest four week period.
Emer Healy, retail analyst at Kantar, said that some people are cautiously return to pre-Covid habits. 
"Grocery sales growth over the latest four weeks slowed to 17.8% as shoppers started to spend less on food for their fridge and more on eating and drinking out," she said. 
Meanwhile, online grocery sales soared by 123% year on year as the pandemic continued to encourage demand for online shopping.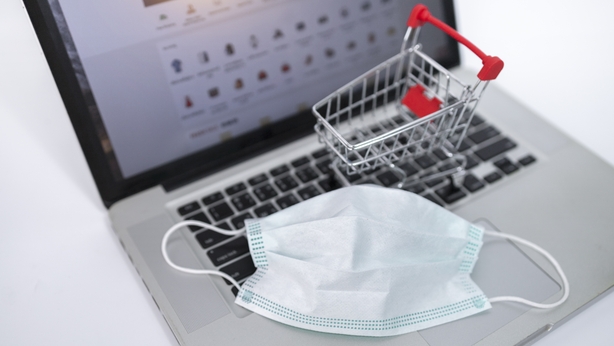 "It goes without saying that lockdown had a major role to play in driving more shoppers to try online grocery shopping, and it looks like the boom is set to continue.  An additional 75,000 shoppers purchased groceries online over the past 12 weeks, contributing €38.9m to the channel," Emer Healy said.
Today's figures also reveal that SuperValu maintained the biggest market share of the grocery sector for the fourth month in a row and saw sales rise by 30.9%. It remained the only major grocer not to experience reduced footfall in the latest 12 weeks. 
Tesco's typically larger stores allowed it to capitalise on bigger trolley shops and it grew by 20.7% to hold a 21.1% share of the market. 
Building on its traditional strengths, Dunnes recorded the highest spend per buyer of all the grocers as shoppers parted with an additional €12.24 per trip on average and continued to increase their trip sizes. The retailer recorded growth of 14.6% to give it a market share of 20.3%  .