New figures show that the use of cheques continued to decline here with only 6.6 million cheque payments made in the first quarter of 2020.
This is down 15% from the 7.8 million cheques issued the same time last year and a 45% drop on the first quarter of 2016, the figures from Banking & Payments Federation Ireland (BPFI) show.
BPFI said that cheque usage has declined in recent years as both business and consumers move to electronic payments.
Consumers especially rely heavily on cards to pay for their shopping both online and in the store, while they mainly use direct debits to pay their regular bills such as electricity or phone.
BPFI said that Ireland is now one of only a handful of countries worldwide where cheques are still regularly used.
These countries include Canada, Cyprus, France, Portugal, Singapore, the UK and the US, based on figures from the European Central Bank and the Bank for International Settlements.
Both Ireland and the UK have seen substantial falls in cheque usage in the past decade, with Irish cheque usage per capita down from 22.1 in 2009 to 6.4 in 2019, it noted.
"Given the fast-changing nature of consumer preferences away from cheques and towards electronic transfers, cards and mobile banking, today's figures are not a surprise," commented Gill Murphy, Head of Payment Schemes at BPFI.
---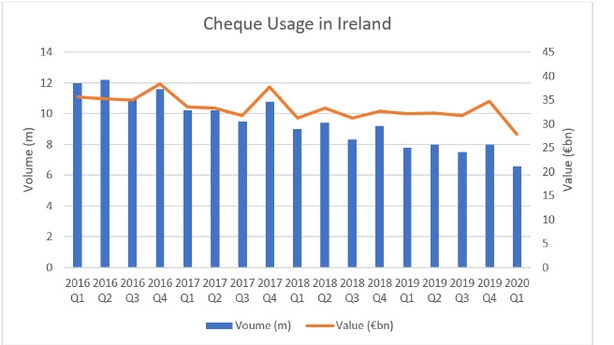 ---
"This continued drop in cheque usage by consumers is a trend we expect to see continue as consumers and businesses are provided with more choice and convenience regarding payment methods," Gill Murphy said.
But she added that 6.6 million cheque payments this quarter is not insignificant and demonstrates that some consumers and smaller businesses in particular are still in no rush to shred their chequebooks just yet.
"The challenge for us is to try to ensure that there is a full awareness of what the alternative options are and the potential benefits of those options for both consumers and businesses," she added.