McDonald's said it is extending the reopening of its eat-in areas from today in 32 of its restaurants nationwide, including its Grafton Street outlet in Dublin.
This follows the reopening of the fast food chain for takeaway, drive-thru and delivery over the last seven weeks.
The 32 restaurants will reopen eat-in service areas with a range of new safety measures which will see customers served via table service only.
Customers will be able to order directly to their table via the till or kiosk.
In line with Government guidance, McDonald's will ask customers that eat in to leave their contact details by using their smart phone to either scan a QR code taking them to a dedicated webpage or visiting that webpage directly with details provided on each table.
Customers will be asked to leave the name of the lead member and the number of people within their group, a phone number, the date and time of visit and the restaurant number, which is identified on each table sticker.
Social distancing measures will also be in place and, to prevent congestion, the restaurant will carefully manage the number of customers inside.
When arriving, customers will be asked to use the hand sanitiser provided and follow the safety measures laid out in restaurants to help keep them, other customers and staff safe.
McDonalds is one of the largest purchasers of Irish beef and it spends €163m alone on beef for export to its restaurants in the UK and Europe.
It also spends nearly €100m on Irish dairy produce, including milk, cheese, butter and ice-cream.
Its 95 restaurants contribute close to €200m to the Irish economy, according to the company.
McDonald's said it aims to expand the eat-in service to further restaurants over the coming weeks.
---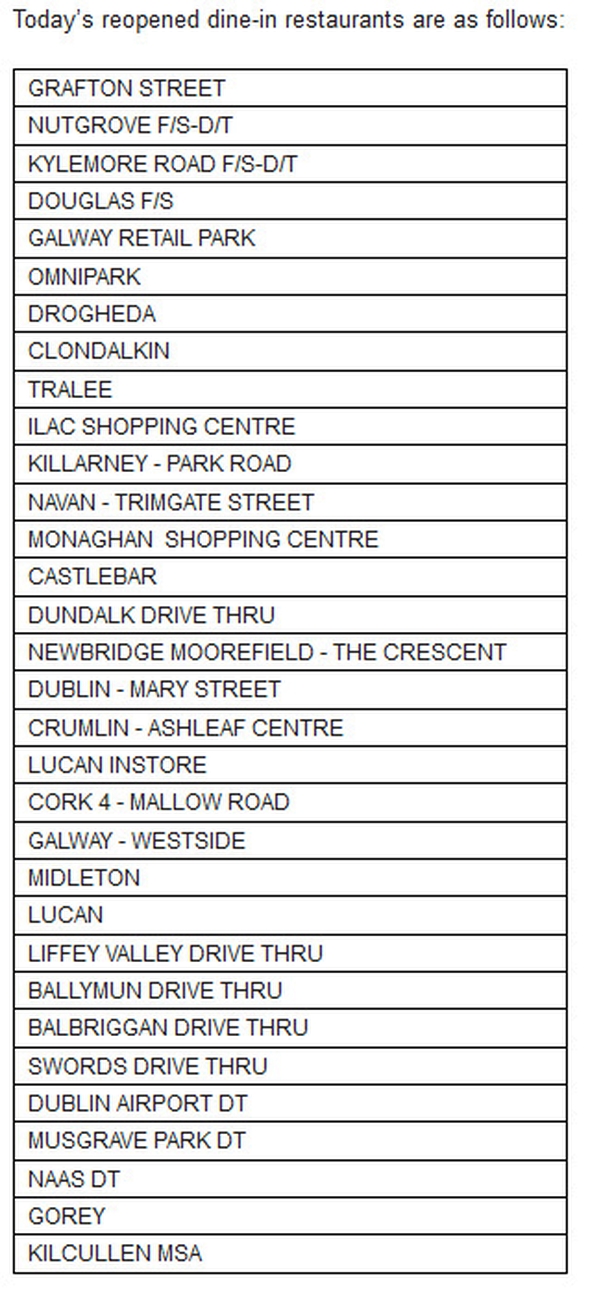 ---