Dublin Chamber and property advisor Savills Ireland have launched a new print and online publication showcasing Dublin's economic credentials to multinational companies around the globe.
The "Why Dublin?" publication aims to promote Dublin as a key location for foreign direct investment as the economy re-opens.
It is targeted at multinationals in various sectors including ICT, financial, legal and pharmaceutical.
Dublin is already home to 1,400 FDI companies which employ more than 100,000 people, while the number of FDI jobs in the city has grown by 20,000 over the past five years.
Nine of the top ten ICT companies are based in the city, while it is also home to nine of the world's top 10 pharmaceutical companies.
A total of 250 global financial institutions are based in Dublin, while 50% of the world's top banks also have a presence here.
Dublin Chamber CEO Mary Rose Burke said it is vital that Dublin continues to showcase the "many wonderful attributes" it has to offer the world's best companies.
"Dublin is home to more than 1,400 FDI companies, employing more than 100,000 people, and there is huge potential to grow these numbers further over the coming years," Mary Rose Burke said.
---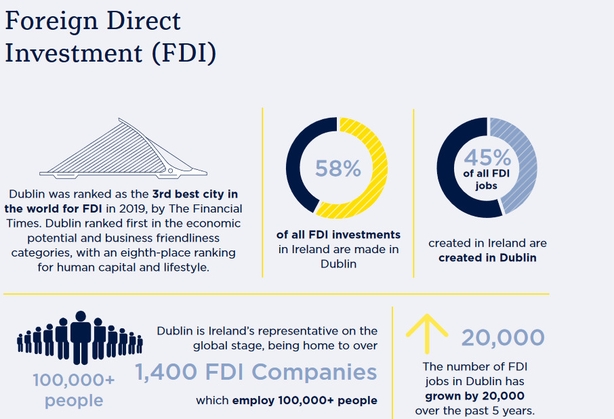 ---
"These companies have not arrived in Dublin by accident, but have made the strategic decision to base themselves here due to the many attributes that Dublin offers, including a young, skilled workforce, great connectivity and an attractive business environment," she added.