Eerily quiet - that is how it feels visiting the RDS in Dublin at the moment. 
The 12,000 square metre of exhibition space, usually packed with stands, people and noise lies empty and silent. 
The trade shows, exhibitions and other events it usually plays host to have all been cancelled since March, when restrictions on gatherings were put in place to halt the spread of Covid-19. 
For the society's management, it is a worrying time. 
"We fund the society through our commercial activities, and what that means is a huge challenge for us," Michael Duffy, CEO of the RDS said, standing in the vast expanse of an empty Hall 4. 
"So the sooner we can get the event business up and running and going again, then we can get an income stream to support the society," Mr Duffy said. 
But the situation is unlikely to change any time soon it seems. 
Since 29 June, it has been possible for a maximum of 50 people to gather indoors under the Government's revised roadmap for reopening the economy. 
After 20 July that will rise to 100. 
We need your consent to load this rte-player contentWe use rte-player to manage extra content that can set cookies on your device and collect data about your activity. Please review their details and accept them to load the content.Manage Preferences
But trade and consumer shows as well as large exhibitions here can attract many multiples of that number and thousands regularly visit big events like Holiday World, Showcase and the Wedding and Honeymoon Show across multiple days. 
But the sector has no visibility now about when the rules around indoor gatherings might change. 
That is a big impediment in an industry where shows are sometimes planned up to two years ahead of time, and at very least require a minimum of several months run in. 
"For domestic events, typically between three and six months would be the minimum you would need to organise and run a show, get exhibitors ready and prep and sell the space," said Padraig Kilgannon, Managing Director of Total Expo. 
His company supplies hardware needed for exhibitions and trade shows, like display stands, furniture, carpets, electrics and graphics. 
When the restrictions were introduced in the middle of March, his firm essentially saw €3m worth of planned business evaporate over a six week period. 
Since then his 12 vehicles have been parked up outside his warehouse which is packed to the rafters with expensive equipment which should be in use all over the country and Europe. 
Many of his 22 full-time staff are also without work. 
We need your consent to load this rte-player contentWe use rte-player to manage extra content that can set cookies on your device and collect data about your activity. Please review their details and accept them to load the content.Manage Preferences
"We call on the Government now to just allow us a date to reopen within the next couple of weeks so we can just plan for the future," he said. 
"Talk to us, give us a chance, let us reopen the industry, let us help grow the economy, because that's the whole thing about trade shows and business events which are about growing business, growing the economy.
"Putting buyers and sellers together in the same place in a well managed way and then getting on with it. We're not looking for handouts, we're just looking to get back to work," he stated. 
The uncertainty isn't just a challenge for those working in the sector, but also for the exhibitors who use the services.
Bernie Kennelly has been making wedding cakes from her home in Navan Co Meath for two decades.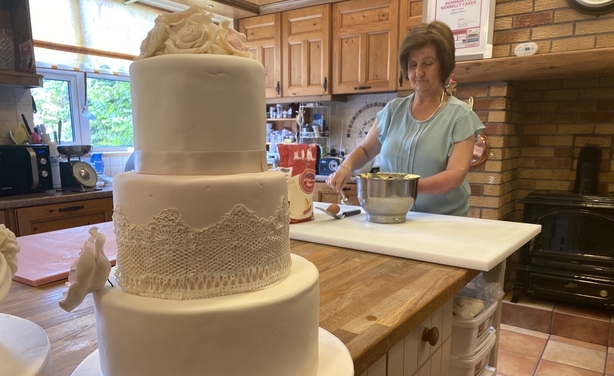 She gets most of her bookings for the year through wedding shows and fairs. Without them going ahead, her business is set to be well down for the remainder of 2020 and beyond. 
"It gives you foresight into the following year or even two years ahead," Bernie said. 
"That's where I meet most of my clients. It portrays what you do, it portrays your best, it means I can put my best foot forward."
Because in the early days of the pandemic some incidents of mass infection took place at exhibitions, trade shows and conferences around the world, convincing public health officials that they are safe to resume will be hard. 
But the sector here says it recognises the vital importance of keeping Covid-19 at bay. 
It also argues that because they can be controlled, trade shows and exhibitions are not the same as mass gatherings like concerts and sporting events where social distancing can be non-existent. 
The Chairman of the Irish Exhibition Organisers Association, Garret Buckley, says they have plans ready to keep people safe once they get clarity about when events can resume, including distancing and hygiene measures, contact tracing procedures and staff training. 
"Trade fairs in a highly organised way, in a large venue can be managed in a safe way, and if you look across mainland Europe all of the national Governments...are all supporting the restart of trade fairs in Europe from September 1," he said.
But he also warns that without clarity from Government soon, many more of the 20,000 jobs supported by the sector will be at risk. 
"Without a doubt, companies have gone out of business already. If we are to be told now that there will be no trade fairs no exhibitions allowed in September, October, November, which is the busiest season for trade fairs, you will see the vast majority of our members go out of business, without a doubt," he said.