Ryanair's Irish pilots have agreed a four year deal with the airline which includes a 20% pay reduction - restored over four years - along with productivity improvements on rosters, flexible working patterns and annual leave to minimise job losses.
Ryanair said the agreement gives it a framework to "flex" its operation during the Covid-19 crisis and a pathway to recovery when the business returns to normal in the years ahead.
Ryanair said 100% of pilots had accepted the deal, but did not say how many jobs would now be cut.
Earlier this week Ryanair's British pilot union said that its members had voted by 96% to accept temporary pay cuts in order to avoid jobs losses.
The British Airline Pilots Association said that Ryanair had notified it in May that 330 pilot jobs were at risk, and that the vote to accept a 20% pay reduction would save 260 of those jobs.
The union added that the future of the remaining jobs was linked to the possibility of base closures, and had yet to be resolved.
Ryanair also said today it has agreed deals with the Fórsa union for its Irish based cabin crew and the UNITE union for its UK cabin crew on up to 10% pay reductions, fully restored over four years as well as productivity improvements to save jobs.
These cabin crew agreements are currently out to ballot.
"These agreements demonstrate that Ryanair pilots wish to work with the airline during the Covid-19 crisis where Ryanair will carry 50% less traffic, at significantly lower fares for the foreseeable future," the airline said.
"We welcome this week's results in both Ireland and the UK of acceptance of a four-year agreement on 20% pay cuts and productivity improvements on rosters and flexible working patterns to save the maximum number of Irish and UK Pilot jobs," Ryanair CEO Eddie Wilson said.
"The strength of this acceptance demonstrates the commitment from our pilots in Ireland and the UK to work with Ryanair as we work our way through this crisis over the next number of years," he added.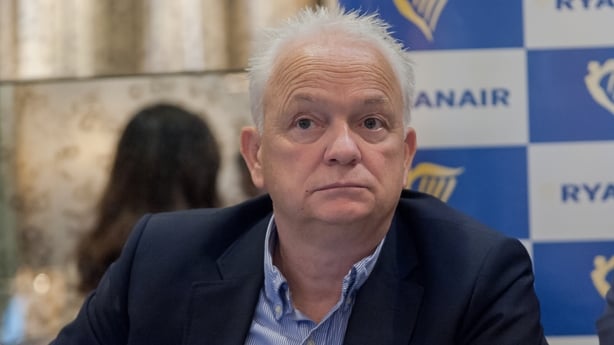 Ryanair also said that that it was making "rapid progress" in processing customer refunds for flights cancelled during the months from March to June as a result of Covid-19 flight cancellations.
Since Ryanair reopened its Dublin office on June 1, it said that more staff have been trained to eliminate the backlog of customer refund requests.
It said that all March cash refund requests have now been cleared, while by the the end of June 50% of April cash refunds had been cleared.
The airline said that by July 15, the rest of cash refunds for April will be processed. It added that by the end of July, all of May and most of June cash refunds will also be processed.
"We will continue to process these cash refunds as fast as we can, and would encourage any customers who haven't yet requested a cash refund, to do so with our Customer Service team and we will process their request as quickly as possible," Ryanair CEO Eddie Wilson said.