The National Asset Management Agency has completed its transfer of €2 billion to the Exchequer.
The sum represents half the expected surplus from NAMA's operations.
The agency made the announcement at the publication of its annual report today.
The expected balance of an additional €2 billion will be paid over the next two years. The total contribution of NAMA to the Exchequer over its lifetime, including taxes, is expected to be €4.4 billion.
NAMA's annual report noted that in March of this year the agency completed the purchase of its outstanding bonds and the 51% of its shares held by private financial institutions.
It is now debt free and 100% owned by the Minister for Finance.
The shareholders included life assurance companies, investors and the Church of Ireland Clergy Pension Fund.
The terms under which NAMA was established entitled the shareholders to receive an additional 10% on their original investment capped at €5m.
They were repaid €56.1m and also received an annual dividend over the course of their investment equal to the yield on 10 year Irish government bonds. This has totalled over €14m.
The report also noted that since 2014, the agency has directly funded the construction of 11,860 homes and indirectly funded 5,520.
An additional 2,250 are under construction or have had funding approved. Another 8,100 are currently in the planning system. 87% of the homes are in the greater Dublin area while 2,614 homes are for social housing.
The loans of 198 debtors are still under the management of NAMA. 124 are "in support or forbearance strategies" and legal action is being taken against 74, today's report reveals.
NAMA today also reported an after-tax profit of €265 million for 2019 - its ninth consecutive year of profitability. The agency is due to be wound down by 2025.
NAMA's chief executive Brendan McDonagh said that 2019 was another year of excellent progress, as it made a profit for the ninth year in a row and paved the way for delivering its first payment of €2 billion to the Exchequer.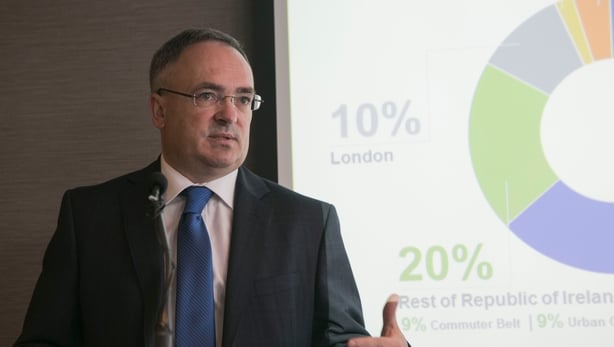 But he added that notwithstanding its progress, NAMA is "alert" to the economic risks created by Covid-19 and will be vigilant in the way its seeks to mitigate these risks and maximise its lifetime surplus for the Exchequer.
The Minister for Finance said the €2 billion payment from NAMA will materially reduce the level of borrowing needed to get us through the Covid-19 crisis.
"The money has been earmarked for spending and will greatly assist the Government in delivering appropriate supports for individuals and businesses impacted by Covid-19 in the coming months," Paschal Donohoe said.
"I thank the NAMA Board and staff - in particular its chairman Aidan Williams, his predecessor Frank Daly and its chief executive, Brendan McDonagh - for their efforts in delivering this surplus," he added.