House price inflation fell marginally after the emergence of the Covid-19 pandemic, the latest house price report from MyHome.ie shows, as the number of listings slumped.
The report, which is published in association with Davy, found that asking price inflation fell by 1.5% nationally in the three months from April to June compared to the first quarter.
Asking price inflation was down by 2.1% in Dublin and by 0.9% elsewhere around the country.
On an annual basis asking price inflation fell by 2.9% nationwide and by 2.6% in Dublin, the report added.
Myhome.ie said the asking price for new sales nationally is €268,000, while the price in Dublin is €372,000 and €224,000 elsewhere around the country.
Newly listed properties are seen as the most reliable indicator of future price movements, the report suggested.
Conall MacCoille, chief economist at Davy, said the falling asking price inflation seen throughout the country had to be viewed in the context of far fewer listings in the second quarter of the year compared to the same time last year.
"Our price measure is based on just 3,700 new properties listed for sale over the past three months, down 64% from 10,200 one year ago," Conall MacCoille said.
"Observed prices were therefore clearly biased towards those vendors willing to put their homes on the market despite the enormous uncertainty of the Covid-19 outbreak," he added.
The economist also said that despite a highly uncertain outlook for the property market, there was cause for some optimism.
"The negative impact of Covid-19 could still have a more slow burn impact on the Irish housing market than many participants anticipate.
"That said, the clear anecdotal evidence is that activity in the housing market is returning to normal levels and with greater confidence than estate agents had expected," he added.
Angela Keegan, Managing Director of MyHome.ie, said the significant drop-off in activity in the second quarter meant that a clearer picture of Covid-19's effect would not be seen until the third quarter.
---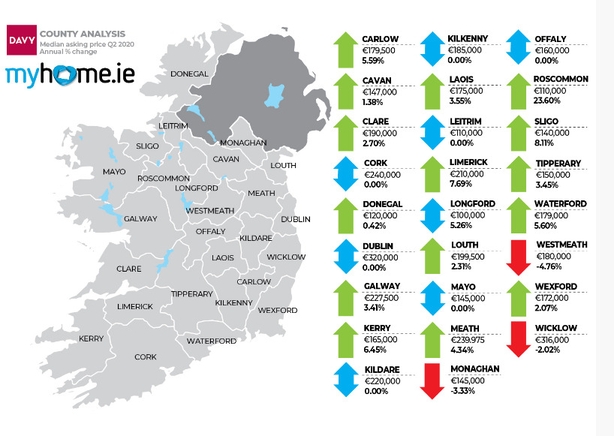 ---
"With activity significantly down on normal levels for most of the quarter, it is perhaps not hugely surprising that we have seen prices stay relatively steady as many buyers adopt a wait and see approach," Angela Keegan said.
She said we will have a better sense of how the overall economic picture has affected the housing market across the country in the third quarter of the year.