A new campaign has been launched by Drinks Ireland today to encourage consumers to act respectfully when returning to pubs, bars and restaurants in the coming weeks.
Drinks Ireland represents Irish drinks producers and distributors and its new campaign aims to build consumer confidence and facilitate efforts to allow for a safe return to the hospitality sector.
Both the Vintners Federation of Ireland (VFI) and the Licensed Vintners Association (LVA) have endorsed the new "Reopening with Respect" campaign.
The campaign will encourage consumers to "Respect the Guidelines", as set out by individual venues when they re-open.
Pub customers will be asked to "Respect the Staff", by being patient and cooperative and to "Respect Each Other", to ensure the experience is enjoyable for everyone.
Customers will also be reminded at all times to "#BeSound" to ensure everyone is kept safe and has a good time.
The Reopening with Respect campaign will be digitally led at first, with a campaign toolkit available to drinks brands and the on-trade sector.
Patricia Callan, Director of Drinks Ireland, said the new campaign will highlight how we all have our part to play to ensure our favourite venues remain safe and enjoyable for all.
---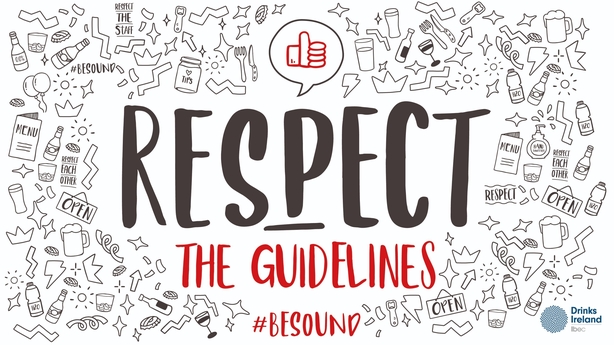 ---
"Through simple, friendly, identifiable and welcoming language and visuals we are asking the consumer to respect the guidelines, respect the staff and respect each other, and most importantly to #BeSound," Patricia Callan said.
"While the 'new normal' may take a little getting used to, we're confident that by acting respectfully, our pubs, bars and restaurants will be full of life again soon," she added.
Pubs have to be ready and confident in order to open on Monday
Only pubs that are ready and are confident they can deal with the necessary Covid-19 guidelines will reopen on Monday, according to the Licensed Vintners Association.
Gillian Knight of the LVA said that around 250 of the body's 550 members are going to open on Monday as Phase 3 of the government roadmap to ease Covid-19 restrictions begins.
The LVA represents pubs based in and around Dublin city.
We need your consent to load this rte-player contentWe use rte-player to manage extra content that can set cookies on your device and collect data about your activity. Please review their details and accept them to load the content.Manage Preferences
Ms Knight said that all staff working in pubs will have to complete an online module provided by Fáilte Ireland before they can return to work.
She said it takes about 40 minutes and is "very thorough", and requires staff to answer 20 questions correctly in one go.
"By the end of it you will know the regulations for health and safety, there is no way around it," she said.
Ms Knight said publicans are anxious and excited about reopening on Monday.
Pubs have been doing renovations, deep-cleaning, disinfecting, training staff and setting up protocols in recent weeks and they are now ready to reopen, she said.
But Ms Knight also said that pubs do not have to reopen on Monday and only those that feel they are ready and are confident will do so.
"Any risk is a calculated risk," she stated. "Anyone that does open knows the risks and are ready to take them head on", she added.
Ms Knight also said that under the guidelines for reopening anyone who is drinking alcohol will have to order a "substantial meal" costing at least €9.
Those not drinking alcohol will not be required to do so.
Ms Knight also said that as most premises will be opening at 50% capacity there should be ample toilet facilities available.