Tesco said its underlying UK and Irish sales rose by 8.2% year-on-year in its first quarter to May 30, boosted by the countries being on coronavirus lockdown for most of that time.
But a boost in sales volume for Tesco has been counteracted by the increased costs and logistical challenges of operating during the pandemic, and it reiterated a flat profit outlook.
It also estimated a hit of £840m from the costs of dealing with the pandemic, offset in part by higher food sales and £585m of business rates relief from the UK government.
The group said it was maintaining its expectation that retail operating profit in the 2020-21 year was likely to be at a similar level to 2019-20 on a continuing operations basis.
Tesco said its Irish like for like sales jumped by 20.5% to £697m, while its UK sales increased by 8.7% to £9.912 billion.
Group sales increased by 7.9% to a total of £13.380 billion.
The company said its UK online sales soared by 48.5% in the three month period, while they jumped by 50.9% in Ireland and surged by over 106% in Central Europe.
"In just five weeks, we doubled our online capacity to help support our most vulnerable customers and transformed our stores with extensive social distancing measures," Tesco's chief executive Dave Lewis said.
"The costs of doing this have been significant and only partly offset by business rates relief and increased volume," he added.
"The results clearly show the impact of the pandemic and the unique competitive advantage of the Tesco business model," CEO Dave Lewis told reporters.
He noted that Tesco saw net customer switching gains from discounter Aldi for the first time in a decade.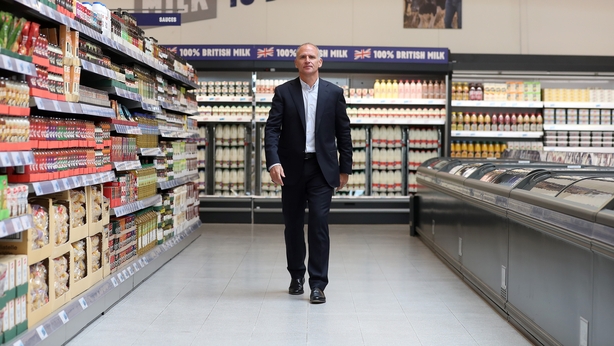 Chris Lewis is due to leave Tesco on October 1 after a six-year tenure, handing over to Cork man Ken Murphy, who is joining the company from Walgreens Boots Alliance.
Tesco also today increased its provision for bad debts at Tesco Bank and now expects it to report a loss of up to £200m.
Meanwhile, shareholders decisively voted down Tesco's remuneration report today, as the UK's largest retailer joined a growing list of big companies to be rebuked over executive pay.
The supermarket group said 67.3% of votes cast at its annual general meeting were against the resolution to approve the pay report, with only 32.7% in favour.
Several investor advisory groups had recommended shareholders vote against the report ahead of the meeting.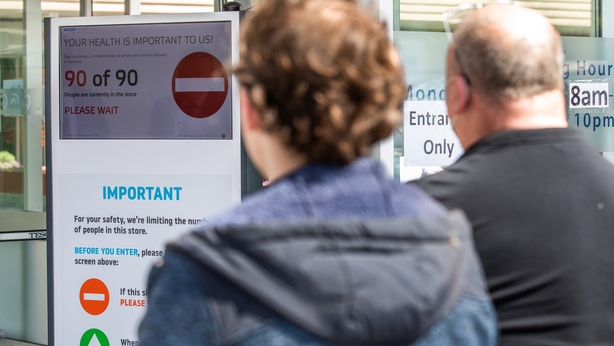 They focused on the exclusion of online grocer Ocado from peer benchmarking, which they said had inflated one of the bonuses paid to departing chief executive Dave Lewis by £1.6m to £2.4m.
Lewis received a total pay package of £6.4m for 2019-20 and Tesco has argued that Ocado is now more of a technology company than a retailer and therefore no longer a direct competitor to be benchmarked against.
Tesco, which said it was disappointed the advisory vote was not passed, added that it had engaged with several large investors and been reassured that the majority agreed the overall outcome of the 2017 PSP (performance share plan) award was proportionate given the turnaround management had delivered.
However, it recognised that a significant number of shareholders had concerns and said its remuneration committee would further engage with investors and consider feedback before putting its pay policy to shareholders at next year's AGM.
Today's meeting was not attended by investors, who had to vote by proxy because of the coronavirus lockdown.
Earlier this month, Morrisons saw its remuneration policy opposed by more than a third of votes cast at its annual meeting.