The number of home mortgages in arrears for more than 90 days fell to 5.6% at the end of March from 5.7% three months earlier.
This marked the lowest level in nine years, new figures from the Central Bank showed. 
Home mortgage accounts in arrears over 90 days decreased by 986 over the quarter, while accounts in arrears for over 720 days decreased by 664. 
The proportion of residential investment property loans in arrears more than 90 days also fell for the third quarter in a row, having risen unexpectedly to the highest level in more than a year last June, today's figures also revealed. 
The Central Bank noted an increase of 3,827 in the number of short time arrears - less than 90 days - in the three month period. 
However, it added that preliminary indications show that a significant number of new arrears accounts have since reverted to having no arrears since the introduction of Covid-19 payment breaks in the last two or three weeks of the three month period.
Today's Central Bank figures also show that 81,255 home mortgage accounts were categorised as restructured at the end of March this year. 
Arrears capitalisation accounted for the largest share of restructured accounts at 31%, while the share of accounts on temporary restructure arrangements remained low at 10%.
A total of 4,088 new restructure arrangements were agreed during the first quarter of 2020. 
85% of restructured home mortgage accounts were deemed to be meeting the terms of their arrangement.
This means that that the borrower is, at a minimum, meeting the agreed monthly repayments according to the deal reached with its bank.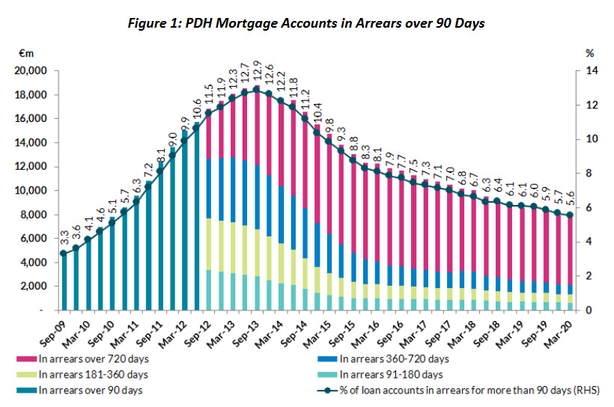 The Central Bank noted that this is the first Residential Mortgage Arrears Statistics since the onset of the Covid-19 pandemic in Ireland and includes reference data up to end-March 2020. 
"As the containment measures were introduced from mid-March, the impact on these statistics is partial," the Central Bank said. 
"Data covering developments from April to the end of June are due to be published in the middle of September," it added.