The chief executive of Daa, the operator of Dublin and Cork airports has said the financial impact of Covid-19 has been enormous, with losses of around €1 million a day since St Patrick's Day.
Dalton Philips said he expects that between 750 to 1,000 permanent jobs will be lost at the airports as a result of Covid-19.
Although staff have been "absolutely heroic", he said that wages have had to be cut and the organisation is now being downsized.
Mr Philips said that a number of schemes are being put in place for staff, including a career break and a voluntary severance scheme.
He said that all staff members, including himself, have taken a 20% pay cut.
The Daa CEO estimated it will take up to three years for passenger numbers to recover and that numbers will be at least 40% lower next year.
But he added that he knows that traffic will return at some point.
Mr Philips said that Dublin Airport had its busiest day last Sunday since the pandemic began with 4,000 passengers passing through.
However, he pointed out that normally around 115,000 passengers would pass through the airport on a daily basis.
Mr Philips said that work on the new runway in Dublin is continuing and it will be more or less complete by the end of this year.
We need your consent to load this rte-player contentWe use rte-player to manage extra content that can set cookies on your device and collect data about your activity. Please review their details and accept them to load the content.Manage Preferences

Never has this runway been more important, he said, in order to link the island to the rest of the world.
Mr Philips said that passengers will enjoy a safe experience at the airport, but added that he thinks it will be a stressful experience.
He said that anyone coming to the airport now must wear a face mask.
No one will be allowed in to greet someone from a flight, or to accompany someone into departures.
He told the Today Show with Sarah McInerney that passengers will also experience a slower process through security.
Pre-Covid, 6,000 passengers an hour could be processed through security, but that has now fallen to around 2,000 an hour.
---
Read more: Aviation taskforce seeks urgent clarity over restrictions
---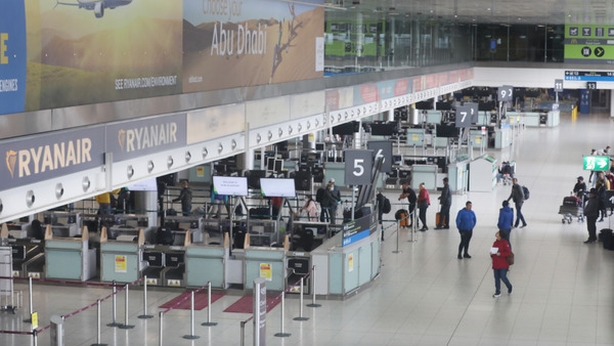 Mr Phillips said the Daa will be selling masks for €1 and surgical masks for €3, but they will not be providing them free of charge.
Passengers will be allowed carry hand sanitiser through security and there are 1,000 units of hand sanitiser available throughout the terminals.
He said the airport would not be carrying out temperature checks because it is not recommended by the European Aviation Safety Association, adding that would be a decision for the health authorities to make.
Mr Phillips said the airport will provide the infrastructure for Covid-19 testing, if it is required by authorities.
He said that landside airport bars will not be allowed open because they do not want people lingering in the terminals, but airside bars will open.
'Enormous crisis' in Irish aviation
Captain Evan Cullen of the Irish Air Line Pilots' Association has said there is an enormous crisis in Irish aviation.
Speaking on RTÉ's Drivetime, Capt Cullen said approximately 600 of IALPA's 1,200 members are living on social welfare.
He said the remainder of members are on 25-50% of their non-flying, basic income.
Capt Cullen said Irish aviation facilitates precarious employment and offers "no protection, no redundancy rights and no rights to basic representation."
He called for the travel advisory of avoiding all non-essential travel and a two week quarantine to be lifted, as he said "it it out of step with the European Centre for Disease Control and the European Aviation Safety Agency."
"Ireland is an outlier in its approach to aviation travel in the context of this pandemic and we need the Irish Government to take a proper assessment of the science coming from the ECDC and the EASA," he said.