Life and business partners, Claire Cullen and Rob Hallinan are the co-founders of The Fax Fox drive thru coffee shop in Delgany, County Wicklow.
"It actually works pretty well, we rarely argue - once I accept Claire is the boss," Rob joked.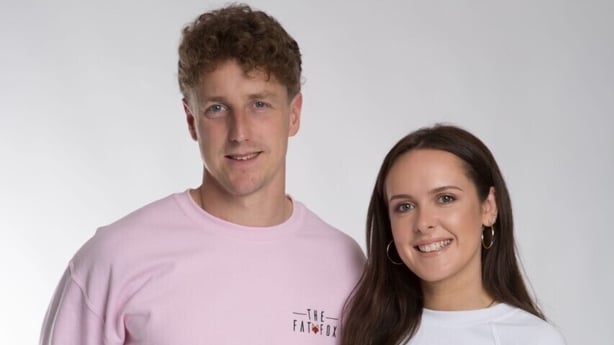 They opened their first coffee shop in the heart of Dublin City on Camden Row in September 2016, but after trading successfully for two years the building they were renting was sold and they struggled to find a new premises.
This was the beginning of what Claire described as very stressful year, full of disappointment.
"We tried time and time again to secure a lease on several properties but they failed to come our way. One landlord shook hands with us and promised us his unit; he even had us help him secure his required planning permission only to rent it to someone else. This was heartbreaking," Claire explained.
With the bills stacking up, they decided to start a new venture and shift their focus to a 1950s petrol station in Co Wicklow, which they had been admiring for many years.
"The old petrol station in Delgany had been closed for six years when we approached the owners with our idea for the drive thru coffee shop. They were happy to rent us the premises and they were incredibly supportive and sympathetic about our situation. The infrastructure was there and the shop unit was there, so we just had to renovate it," Rob said.
On 25 August 2019, the team opened the hatch on The Fat Fox Delgany drive-thru.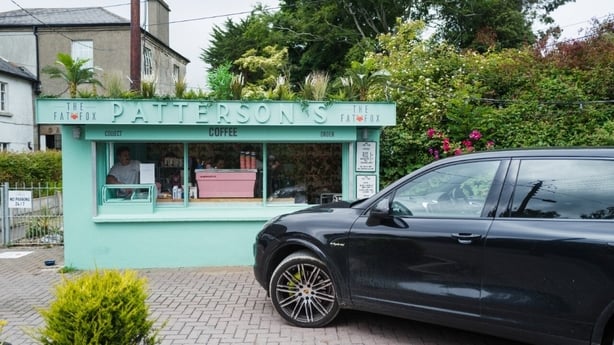 The business had taken off and was growing steadily when the Covid-19 pandemic hit in March, and they were once again forced to close.
"I didn't sleep for a couple of weeks after we closed up. I was really worried; I'm a natural worrier. We definitely didn't close up thinking we would be open again in eight or ten weeks time, we just didn't know what would happen. As you can imagine, we incurred quite a bit of debt over the time that we were initially closed. We had just paid that off and things were just starting to look up again," Rob said.
The couple documented The Fat Fox journey on Instagram, sharing both the good and bad times, and amassed a following of over 25,000 followers.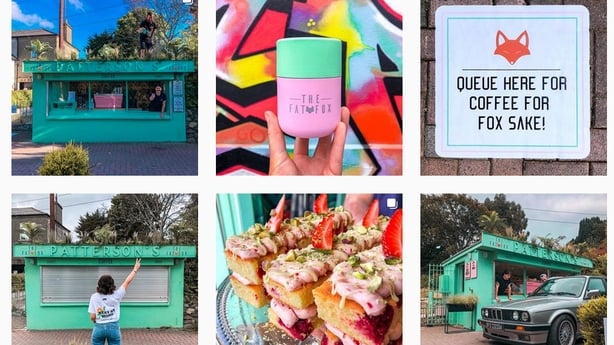 "It's a silly warts and all view of what goes on with running a small business and the trials and tribulations of what we went through over the last four years," Rob said.
"It was just us goofing around on our Instagram stories at the start, in fact it still is us goofing around", Claire added.
Claire said they try not to paint a perfect picture on Instagram, because the reality of running a small business is far from perfect.
"I think sometimes when people look at social media they see this perfect world where everything is rosy, where nobody has troubles. When we closed originally in 2018, we felt it was important that we shared our story and that we shared our struggles. When the pandemic hit, we did the same thing again and I think people can relate to that, because everybody has hard days," she said.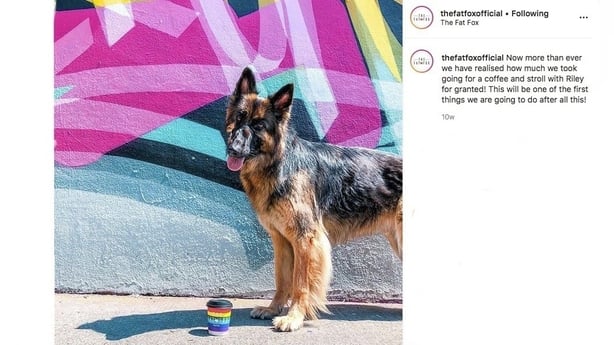 Had it not been for their presence on social media, Rob said they might not have been able to keep the business afloat.
Having been through tough times before, he explained how they adapted their business plan yet again, this time using Instagram to push online sales of their products and merchandise.
"Thankfully we had invested in a website and online shop while we had been closed the previous year. We began to focus on our online sales, increasing them dramatically over the 8 weeks we remained closed. This gave us just enough revenue to allow us to cover our outgoing costs including our business loans," he said.
Reluctantly, they were forced to change their Instagram content in order to boost online sales.
"We had always maintained we wanted to avoid salesy type content as much as possible but due to the pandemic and having to rely on our online sales we decided that in order to keep our business alive we would need to adapt and push our products with a salesy type of approach we had always avoided," Claire said.
According to Rob, that push on Instagram revolutionised their online sales and opened up a whole new window of opportunity for The Fat Fox.
During the eight-week period in which the drive thru remained closed, the team spent time preparing the premise for a safe reopening.
They installed a Perspex screened door at their pedestrian hatch and a sliding drawer to allow them to serve customers contact free.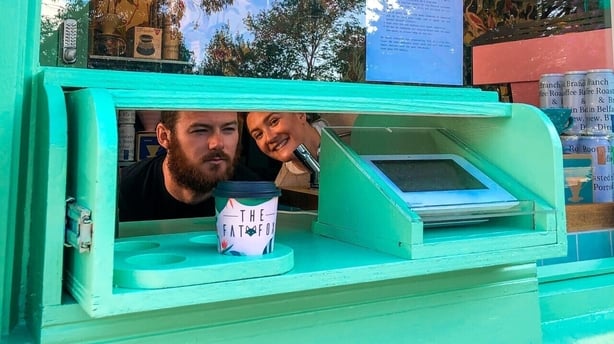 These changes gave the team the confidence to reopen on 5 May, when local customers returned in their droves.
"Since reopening in Delgany our business has been far busier during the week and we believe that this is due to an increase in midweek population in nearby Greystones because many people are now working from home," Rob explained.
Claire said she believes their strict social distancing measures and contact-free service made the premises a more attractive option for many.
"We are probably viewed as a safer option, because people don't have to get out of their cars to get their coffee and they are not going into a building or interacting with anyone. I think we have a lot of customers that would be in the vulnerable category. We do have a pedestrian door that we have marked out with stickers all two metres apart, but the majority of our customers are using the drive thru," she added.
The fit-out of their second coffee shop, The Fat Fox Greystones, was put on hold when the country entered lockdown, but Rob explained that work has since resumed.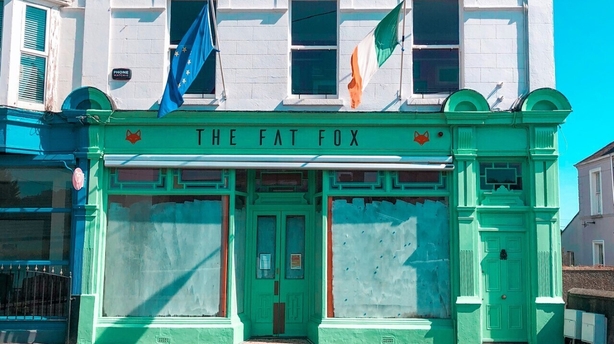 "We have had to completely re-work our business plan and go back to the bank. We had to look at seating arrangements and figure out how we can still operate safely with the social distancing requirements. We are looking at one or two schemes that the Government is offering, so they might be an option for us," he said.
Claire and Rob are still waiting for clarity on social distancing guidelines for coffee shops, before they can plan for the opening of their seated cafe.
"We still don't know if the regulations will require one or two metres between tables. We had been planning to seat 28 people inside, but with the two-metre restriction we can only fit 10 people inside. We are fortunate that we have a large rear garden area that we weren't initially going to renovate straight away, but because we have that usable space, we are hoping to do it now, should funding allow," Rob added.
Top Instagram Tips from The Fat Fox
With 25,000 Instagram followers, we asked The Fat Fox for their top tips for small businesses looking to boost sales through social media.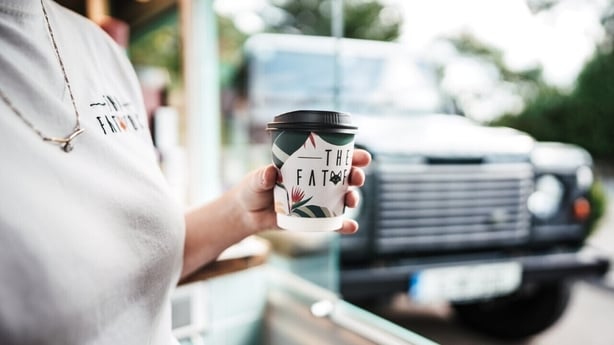 1 Post every day
Claire said she would recommend posting every day. "Posting regularly or sharing Instagram stories has definitely benefited us. It allows people to put a face to a brand. Also, Irish people are nosy; they love to see what is going on behind the scenes of local businesses," she said.
2 Share your struggles
"Don't be afraid to talk about what is going on with your business and in your life", Rob said. "Everybody is embarrassed at first, I'm still embarrassed to be honest," he added with a laugh.
3 Learn to take a good photograph
The team suggests working on taking a good photo of whatever it is you are trying to sell and then crafting a thoughtful post to go with it.
"We find our posts with good images, that have a story behind them tend to get a lot more traction and interaction, and interaction is a good thing because then more people will see your post," Claire said.
4 Strike a balance
The couple described Instagram as a "double-edged sword". While they need it for their business, they are very aware of the negative impact social media can have on your well-being.
"Don't focus on it too much, you don't want to be living your life through Instagram or through someone else's Instagram. I think during lockdown when people were confined to their houses, many people were glued to their screens. We have noticed that things have slowed down a bit on social media over the past week and that is a good thing, because it means people are putting down their phones and enjoying life," Rob said.
5 Don't give up
Lastly, Claire and Rob admit that growing an Instagram page is hard work and takes time, but they firmly believe that social media played a role in helping The Fax Fox claw its way back from the brink of extinction.