New figures from the Central Statistics Office show a substantial drop in international air travel during the first quarter of 2020 due to restrictions imposed to prevent the spread of Covid-19. 
The CSO noted modest increases in passenger numbers at Dublin, Cork, Shannon, Knock and Kerry airports for the months of January and February. 
But data for March shows a drop of 57.5% in passenger numbers compared to the same month in 2019 due to the Covid-19 restrictions. 
Governments around the world advised against all non-essential overseas travel in the middle of March and airlines, including Aer Lingus and Ryanair, grounded most of their fleets.
Today's CSO figures show that in the first quarter of 2020, over 5.9 million passengers passed through the five main Irish airports, a decrease of more than 1.5 million or 20.4% over the same time last year.
Almost three million passengers travelled to Ireland and 2.9 million passengers left the country in the three months from January to March - a drop of 20.1% and 20.7% when compared to the same time last year. 
The figures also show that over 51,000 flights were handled by the five main airports in the first quarter of 2020, a decrease of 11.4% compared to the first three months of last year.
Dublin accounted for 84.6% of all flights (43,513) while Cork handled 7.6% of all flights (3,911).

The CSO noted that London-Heathrow, London-Gatwick and Amsterdam-Schiphol were the most popular routes for passengers travelling through Dublin airport in the first three months of the year. 
For Cork airport, the top three routes were London-Heathrow, London-Stansted and Amsterdam-Schiphol. 
The top route for Shannon was London-Heathrow, while the top route for Knock was London-Stansted and the top route for Kerry was London-Luton. 
The CSO also noted that almost nine out of every ten passengers on international flights in the five main airports were travelling to or from Europe and the two most popular countries were the UK and Spain.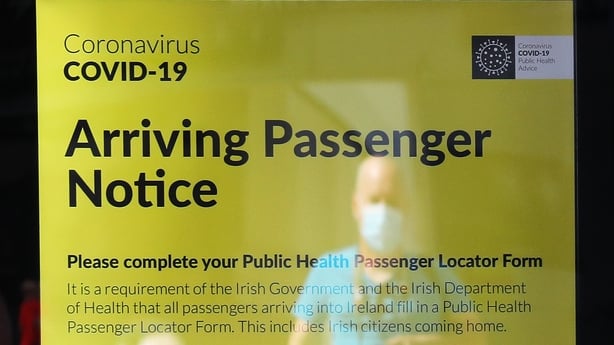 Outside of Europe, the US was the most popular country of origin/destination in the first quarter of 2020.
Meanwhile, the amount of air freight handled by the five airports increased by 14.1% to 37,135 tonnes in the first three months of 2020 when compared with the same time in 2019.
Last month, the Daa - which operates Dublin and Cork Airport - told staff that it may need up to 1,000 voluntary redundancies and other cost reductions because of the collapse in passenger numbers at Irish airports due to the Covid-19 virus. 
The Daa said that with passenger numbers down by 99%, the outlook for the rest of the year wass "bleak", and it only expects to have a throughput of 21 million passengers next year.
That would be down from 33 million per year in Dublin, and 2.6 million in Cork.