The number of property transactions slowed dramatically in April, according to the latest figures from the Central Statistics Office.
House prices also fell last month but are marginally ahead of where they were a year ago, the CSO figures show.
The CSO's Residential Property Price Index shows that house prices nationally were 0.5% higher in April compared to a year ago. However, they fell 0.2% compared to March.
The CSO noted that Covid-19 restrictions reduced the number of transactions available to include in its survey to approximately 1,200, down more than 40% on March.
It compared this level of transactions to the average 1,100 per month during 2010/2011, but noted that the April figure will rise as more stamp duty receipts are received by Revenue.
Household dwelling purchases filed with Revenue were down 28.9% compared to April last year and down 34.7% on the figures in March of this year.
The residential property increase nationally in the year to April of 0.5% compares to an increase of 2.9% the same time last year. The positive rate has also slowed from the 0.9% recorded in the year to March.
Prices in Dublin fell in the year to April by 0.1% while outside Dublin, prices were up by 1.1%.
Today's figures show that sales of 1,914 existing dwellings made up 81.4% of transactions, down 29.2% compared to April last year.
There were 437 new dwellings sold, accounting for 18.6% of transactions. This was down 27.5% on a year ago.
The average price for a property nationally was €296,606.
---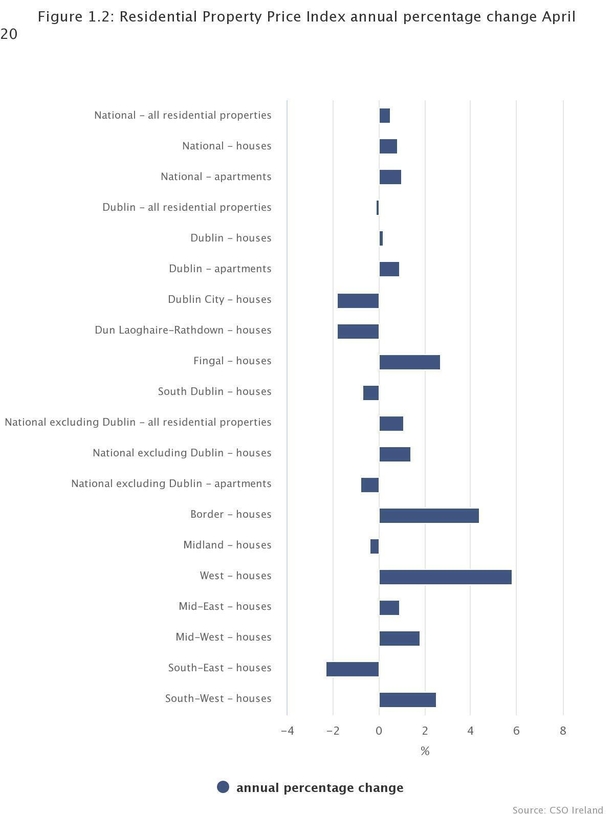 ---
A big disparity remains between prices in Dublin and the rest of the country.
The average price in Dublin was €438,554 with the average price in Dun Laoghaire-Rathdown €597,931.
The lowest priced region remains the Border area while the lowest average price is in Leitrim at €117,463.