New figures from the Central Statistics Office show the number of planning permissions granted for apartment units jumped by 274.2% in the first quarter of the year compared to the same time last year.
Planning permissions were granted for a total of 9,698 apartments compared to 2,592 in the first quarter of 2019.
A total of 5,091 planning permissions were also granted for houses in the first three months of the year, an increase of 3.9% on the first quarter of last year.
Today's figures showed that one-off houses accounted for 9.2% of all new dwelling units granted planning permission in this quarter.
---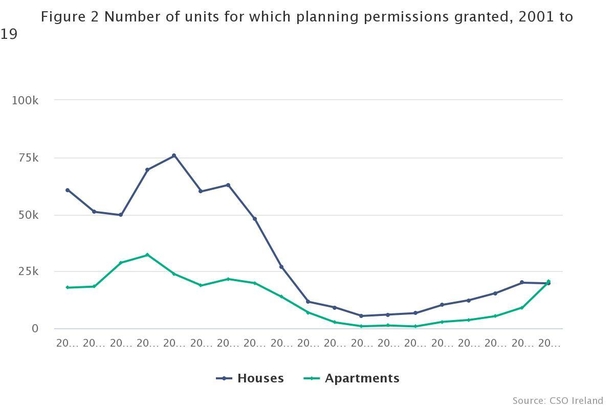 ---
The CSO said the total number of planning permission granted for all developments was 6,660. This compares with 6,943 in the first quarter of 2019, a decrease of 4.1%.
Of these permissions, 57.1% were for new construction, 26.1% for extensions and 16.9% for alterations and conversions.