Shopping centres should put in place measures to limit the number of shoppers before they reopen next week, according to new guidelines published by the National Standards Authority of Ireland (NSAI).
Consideration should also be given to limiting access for children and adjusting opening hours to lessen crowding at any one time, the NSAI document recommends.
The guidelines also state that visitors entering a shopping centre should be encouraged to wear face coverings and that appropriate signage be used to communicate this to customers.
They also suggest that special access times be allocated for those at high risk from Covid-19 or those who have been cocooning, carers, frontline staff and people with disabilities.
Customer parking spaces should also be limited to comply with physical distancing requirements, with shopping trolley access only being given to those going to a grocery store, they say.
The protocols suggest that non-essential facilities, such as playgrounds, pray areas and play equipment, be either closed or controlled to ensure physical distancing can be maintained.
Wi-Fi in public areas should be blocked to discourage non-essential use of the centre, while consideration should be given to the removal of massage chairs, product carriers, decorations and seating areas, apart from those needed by people with disabilities.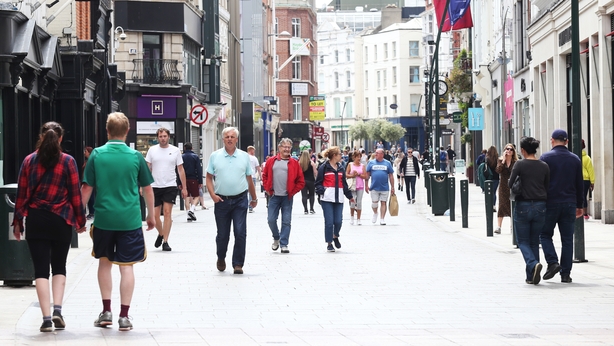 Under the original Government plan for reopening the economy, enclosed shopping centres were not supposed to reopen before 10 August.
However, last week the Government announced a speeding up of the reopening phases, with retail outlets in shopping centres told they could open on 15 June, once measures were put in place to make centres safe and prevent people congregating in them.
The guidelines drawn up by the NSAI also say there should be an area assigned to isolate people with Covid-19 symptoms on presentation to a manager, customer services desk or centre personnel.
They say that where possible, video surveillance should be used with a footfall counting system and direct contact with security personnel if available to monitor compliance with rules.
The Covid-19 centre management team should organise personnel to patrol the centre at all times to aid in managing physical distancing measures, the document says.
Restrictions of visitors on business to shopping centres, such as suppliers, contractors or sales people, should also be instigated.
---
Read more:
Over 50% drop in trade after first Covid-19 restrictions lifted
Monsoon and Accessorize to close some Irish shops
OECD says Covid-19 support measures may need to be extended
---
The implementation of strict physical distancing measures across all spaces are also outlined, and where that cannot be achieved, then engineering controls such as physical barriers and clear plastic sneeze guards between workers should be used.
Staffing rosters should be revised and teams split to ensure separation of personnel in order to limit joint exposure, the protocols say.
The guidelines also say that if possible or appropriate, work areas can be divided into zones with personnel allocated to work within each zone.
Rigorous cleaning of all general work areas and frequently touched objects and surfaces should be conducted at regular intervals using a detergent, the NSAI says.
This would include entrance door handles where doors are not automatic, card reader pin pads at customer service counters, lifts and escalators and ATMs.
Signage should be used in common aisle ways, corridors, walkways and lifts, and physical barriers, such as clear plastic sneeze guards, should be erected at all customer service desks.
Guidelines have been published by @NSAI_Standards to enable shopping centres to reopen safely next week.

These can help shopping centres protect against, prepare for, respond to & recover from #COVID19 related disruptions.

Download at https://t.co/0Hlom7dRo5 #SafelyBackToWork pic.twitter.com/bhsf5cQ3dj

— Department of Business, Enterprise and Innovation (@EnterInnov) June 10, 2020
The document also recommends a planned programme of disinfection take place across centres.
In food service areas there will have to be clear physical distancing separation of tables for customer use, with no more than four customers per table if part of a family or group unit.
Centre management should also consider restricting the numbers entering public toilets, baby changing rooms, baby feeding rooms and sinks.
Contacts logging should take place within organisations to assist with contact tracing by the HSE, the guidelines state.