The Central Bank has published new rules for moneylenders aimed at strengthening the protection of consumers. 
From September, moneylenders who charge an APR of over 23% on their loans will have to include a warning in their advertisements over the high cost of the loan. 
The warning must also include advice to potential customers to consult services like the Money Advice and Budgeting Service (MABS).  
From January of next year, moneylenders will also have to adhere to a new set of rules. These will prevent unsolicited offers to customers who have just finished paying off loans, or who are close to completing repayments. 
The rules will also prevent unsolicited contact with existing customers "without specific consent" or contact from a referral.
All contact between moneylenders and customers will have to be "proportionate and not excessive," the Central Bank said.
Under the new Central Bank rules, moneylenders will have to ensure their marketing strategies are "fair and reasonable" and they will be not be permitted to target low income consumers. 
There are 38 registered moneylenders in the State, according to the Central Bank, servicing approximately 300,000 customers. 
Around half of their business is done through catalogue sales and half through other methods like door-to-door selling. They are regulated by the Central Bank and customers can use the services of the Financial Ombudsman. 
In May of last year, the Department of Finance launched a Public Consultation to gather views on whether a cap on interest charged by moneylenders should be introduced.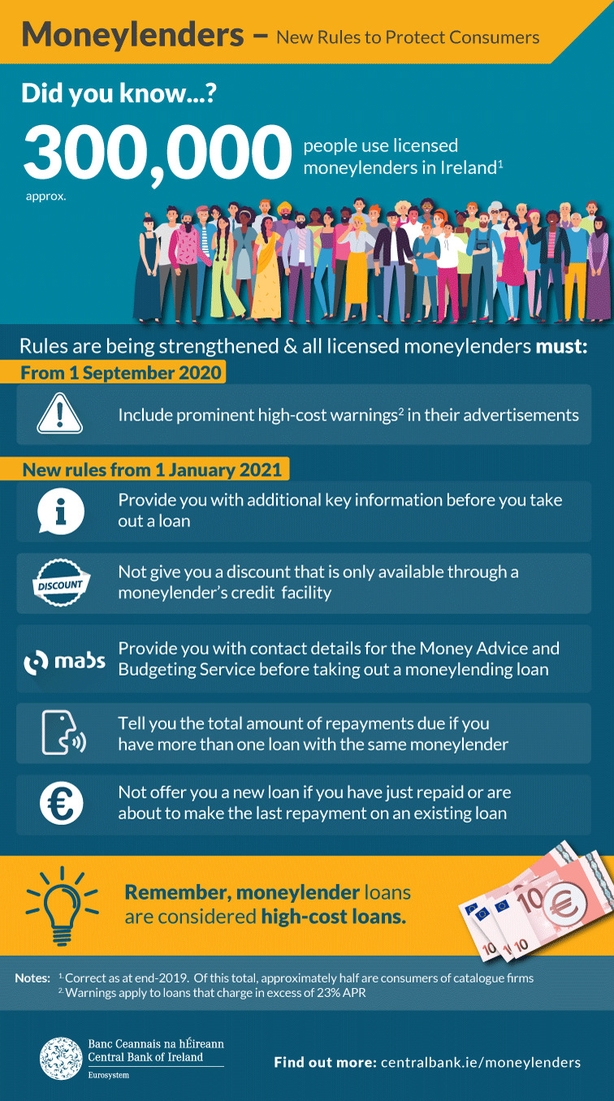 According to a statement from the Department, an analysis of the submissions is being carried out with the aim of bringing forward policy proposals "shortly". 
It is understood the submissions are in favour of a reduction in interest charges but there is some concern about the "unintended consequences in terms of financial exclusion". 
It has long been feared that if regulated moneylenders were put out of business, people may turn to illegal moneylenders.