Shoppers are being advised to prepare for a different shopping experience from Monday, when retail outlets begin reopening their doors.
A range of new health and safety measures are being put in place to protect customers and staff.
From Monday, small and large retail outlets with direct street access can reopen, while shopping centres will be allowed to resume operations a week later.
Dublin City Council has launched a new campaign to help guide people on the new requirements and public health protocols in shops.
It has erected signs and information notices with advice on queuing etiquette and social distancing, as the city centre partially reopens.
Shops are being encouraged to stagger their opening times and not to open before 10.30am.
As part of the preparations for moving to the next phase of the roadmap for reopening the country, Dublin City Council is also installing public toilets at a number of locations including at the corner of Grafton Street and St Stephen's Green.
The Lord Mayor of Dublin, Tom Brabazon, said Monday will mark the beginning of "the journey to get back to some level of normality".
However, he appealed to people to be careful and "not to all rush in together".
Richard Guiney, the CEO of the DublinTown business group, said customer safety is the priority.
He said "DublinTown has worked with its members, Dublin City Council, gardaí and the National Transport Authority to ensure that visitors to the city centre have as good an experience as possible".
Ken Cositigan, the owner of the Great Outdoors, said shoppers can expect "a different shopping experience".
And he said "there will be no browsing".
Earlier, the National Transport Authority said that there will be an increase in public transport services on Monday.
It said that a schedule in line with the pre-covid 'Monday to Friday' schedule will be in operation for buses and DART services. The NTA said that buses will also revert to pre-Covid-19 schedules during weekends, however DART schedules during this time will continue to operate at reduced levels.
The NTA said that there will be some additional capacity and services on commuter and intercity rail routes.
It also said that Luas schedules and LocalLink services will remain unchanged.
Meanwhile Penneys has announced plans to reopen all of its stores in Ireland from 12 June, under Phase 2 of the lifting of Covid-19 restrictions.
In a statement, it said that its stores with street access will open next Friday and that on 15 June its stores located in shopping centres will reopen.
The retailer said measures will be in place to safeguard customers and employees. These include limiting the number of customers in its stores to enable social distancing, as well as closing every second till to allow more space between customers and employees.
Hand sanitiser stations will be made available and Perspex screens will also be installed.
Primark CEO Paul Merchant said: "We will adopt all government safety advice as a minimum in our stores and have benefited from our experience in the other markets in Europe where we have already opened successfully.
"As we open, we will continue to look at best practice across the retail sector and amend our measures appropriately."
The Chief Medical Officer has emphasised the importance of continuing to adhere to advice on Covid-19 relating to social distancing and hygiene.
Speaking at the Department of Health last night, Dr Tony Holohan said that now, more than ever, it will be up to the individual to make choices that continue to prevent the spread of the virus.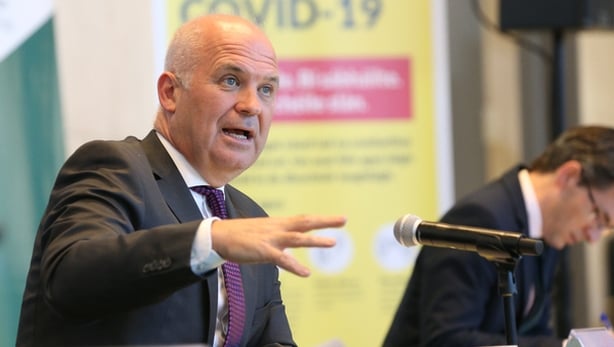 He was speaking after the Taoiseach announced an acceleration from Monday, of the roadmap that aims to ease restrictions put in place because of the pandemic.
Leo Varadkar said that the country will move to 'Phase 2 Plus' on Monday. He said we have suffered as a country, we have lost loved ones and changed the way we live our lives, but we are making progress.
Under the acceleration of the roadmap, there will now be four phases to reopening the country instead of five. Phase 3 will start on 29 June and Phase 4 on 20 July.
---
2m rule may be modified to protect jobs, Taoiseach says
Read more coronavirus stories