New figures from the Central Bank show that the level of saving by Irish households saw the biggest increase since the bank started recording the figures in 2003.
Deposits from households increased by €3 billion in April on the back of reduced consumption due to the Covid-19 containment measures.
The Central Bank said that lodgements of household deposits were €9.7 billion higher than withdrawals, representing a growth rate of 9.1% over the year.
The bank noted that consumer lending seems to have been significantly impacted by the Covid-19 crisis as it saw a net decrease by €277m in the month - the largest monthly decline since early 2014.
Meanwhile, bank lending to households saw an annual growth rate of 1.2% to the end of April. This compares to an average annual growth rate of 2% in the previous 12 month period.
---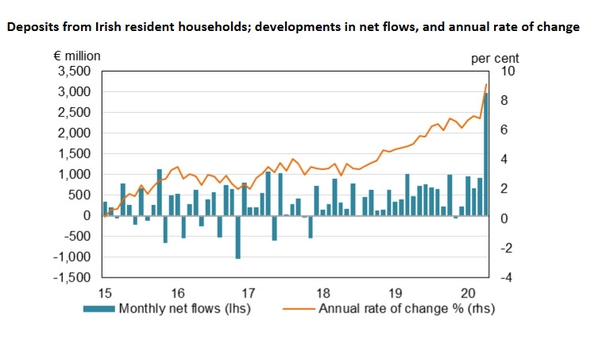 ---
However, mortgage lending decreased in net terms by €73m over the month.
The Central Bank also said that deposits from Irish non-financial corporations increased by €1.2 billion in April.
It said that while this level of inflows is not unusual in recent years, it may highlight an increased focus on cash management given the current economic environment