New figures from the Central Statistics Office show that retail sales slumped by 43.3% in April compared to the same time last year as much of the retail sector remained closed due to Covid-19 restrictions.
On a monthy basis, the CSO said that retail sales sank by 35.4% in April compared to March, marking the largest monthly decrease since January 2009 when retail sales fell by 16.8%.
Today's figures captured the full coronavirus-related shutdown of the economy throughout the month of April.
The only sector to show an increase between March and April was the food and drinks sector in both supermarkets and more specialised stores.
All other retail sectors showed significant decreases from March with furniture and lighting sales slumping by 84%, bar sales sinking 77% and clothing and footwear sales plunging 73.6%.
Car sales also slowed by 71%, while department stores saw their sales dropping by 69.7%.
Fuel sales were down almost 41%, while sales of books, newspapers and stationery decreased by 54.4%, today's CSO figures show.
The CSO also noted that online sales represented 15.5% of the total turnover for all retail businesses, the highest online share since collection of this breakdown began in November 2018.
Today's CSO figures also show that when car sales are excluded, the volume of retail sales decreased by 23.7% in April over the previous month and decreased by 24.8% when compared with the same month last year.
---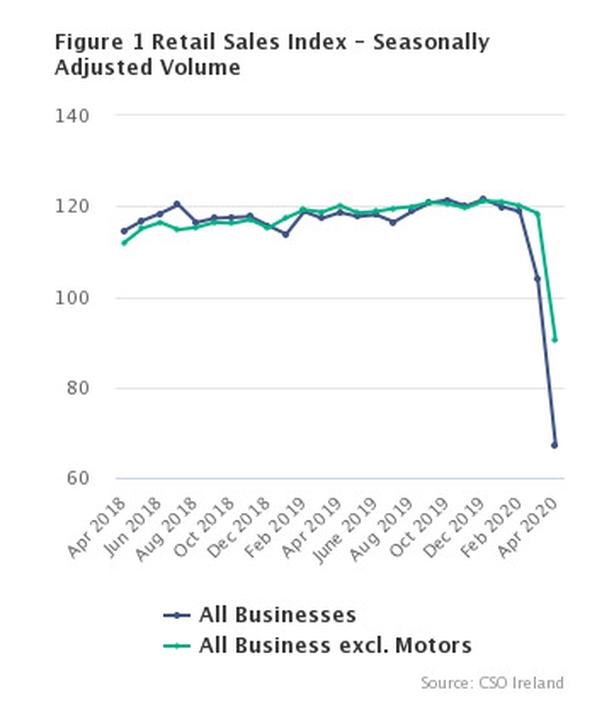 ---