Dawn Meats has said that processing of beef at its dedicated facility at Carrolls Cross in Waterford for McDonald's restaurants across Europe is to restart on May 25.
The plant ceased production for McDonald's on March 18 and for the last two months it has remained inactive.
Dawn Meat said it redeployed all 50 affected employees to other parts of its business to cater for the increased demand from Irish retail customers and a surge in online meat sales.
The company said that staff will now return to the McDonald's plant in accordance with enhanced protocols.
This will allow production to restart smoothly to meet the required demand as McDonald's restaurants begin the re-opening process both in Ireland and across other European markets.
A range of measures has been introduced to ensure social distancing and a safe production environment is maintained at all times at the plat.
This includes enhanced cleaning of contact surfaces and communal areas, installation of protective perspex screens and issuance of visors for use by staff.
Niall Browne, CEO of Dawn Meats, said the reopening of the Carrolls Cross plant is great news for staff and its supplier farmers.
He also said it was an important confidence boost for all who have been affected by the closure of restaurants and the loss of the associated production.
Earlier, McDonald's released the list of six drive-thru restaurants in Dublin that re-opened today.
The drive-thrus at Nutgrove (Rathfarnham), Kylemore Road, East Wall, Artane, Malahide Road and Tallaght will serve a "limited menu" and there will be a €30 purchase limit per car.
Customers are encouraged to pay by contactless payment methods wherever possible.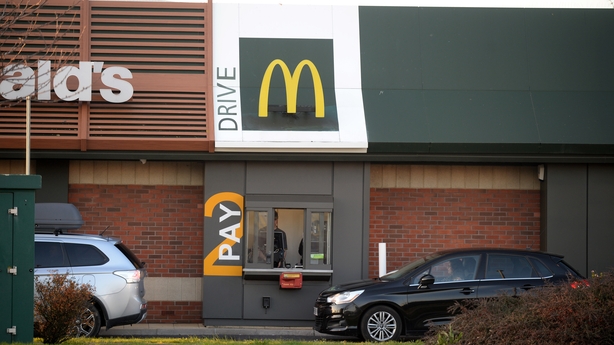 The fast food chain is one of the largest purchasers of Irish beef and it spends €163m alone on beef for export to its restaurants in the UK and Europe.
It also spends nearly €100m on Irish dairy produce, including milk, cheese, butter and ice-cream.
Its 95 restaurants contribute close to €200m to the Irish economy, according to the company.
McDonald's said that with restaurant teams adjusting to new procedures to enable safe working and social distancing, things may take a little longer. It also said that "high demand" is anticipated.
It said that it working closely with local authorities and An Garda Síochána, and may find that it is necessary to close drive-thru lanes if queues cause disruption at busier sites.
McDonald's said it aims to open all drive-thrus in Ireland in early June.