The Economic and Social Research Institute has warned that property prices could fall by 12% by the end of next year as a result of the Covid-19 pandemic.
The ESRI's Kieran McQuinn told Morning Ireland that a new survey looked at likely recovery scenarios and considered that a sluggish outcome is most likely for the property market over the next 18 months.
He said he considered a "V-shaped" recovery - a quick bounce back - as "distinctly unlikely" and that a more gradual recovery through 2021 and into 2022 is more realistic.
Mr McQuinn said it is very clear that a second surge of the coronavirus could have a more significant impact on property prices.
He said that all the new conditions imposed on the construction sector will have an impact on both the supply and demand side of the market.
Disposable income drives demand and as long as that is subdued it will effect demand for properties, he explained.
He also said that "Covid-shock" is impacting the supply side of the market too and this could be more long term and exacerbate the imbalance that already exists in the housing market.
The Construction Industry Federation yesterday warned that Covid-19 safety measures could add 5-10% to the cost of a house.
Meanwhile, Covid-19 will result in a third less houses being built in Ireland than what was predicted for this year, Marian Finnegan, the Managing Director of Sherry Fitzgerald, has said.
Speaking on RTÉ's Today with Sarah McInerney, Ms Finnegan said this loss is the biggest issue facing the construction sector.
"In 2015 when Rebuilding Ireland was established the holy grail was to reach 25,000 houses. We are not going to get there this year and 14,000 or 15,000 houses is more like what will be built. 21,000 were built last year, but in reality we will need even more than the 25,000," Marian Finnegan said.
In relation to prices, Ms Finnegan said she expects a nervousness from buyers but added that the demand factor will maintain prices, rather that an appreciation or depreciation.
She predicted that Covid-19 may have allowed people to save towards their deposits as they have not had opportunities to spend in recent weeks.
The number of people who have been forced to work from home during the pandemic will have changed the way people think about the type of property they want to live in, and its distance from their office, Ms Finnegan also said.
She said this may lead to better spreading of home buyers around the country.
Meanwhile, Covid-19 will result in the end of co-living, Orla Hegarty from the School of Architecture, Planning & Environment Policy at UCD said today.
Ms Hegarty said people need to stop thinking about short term housing and instead think about a 100-year-housing stock.
She said as a result of Covid-19, people will continue working from home but will need to be near village services.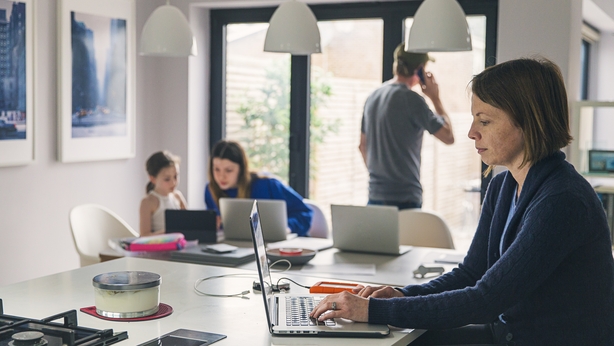 "Now is an opportunity to align towns and villages which have been hollowed out and have empty commercial spaces. We need labour intensive public investment on the back of grants from Europe, which consolidate towns and increase footfall. We need to keep construction investment local," she urged.
In relation to prices, Ms Hegarty said we are in danger of talking about last year's problem, when instead we will see "unprecedented" shocks ahead.
She said Covid-19 should be a "wake up call on how we have allowed standards to fall in the last couple of years".
"We have a wakeup call on how low we have allowed standards to fall in the last couple of years. We have insufficient lifts for distancing, apartments without balconies, very small spaces with more fire risks, less amenity spaces. We shouldn't be building housing that isn't appropriate," she stated.
She said a "massive programme" is needed, which is aligned to the climate change agenda.
Also speaking on RTÉ's Today with Sarah McInerney, developer Noel Smyth said that a "NAMA style" agency for planning, development, building and residential is what is needed to change the housing and construction sector.
Mr Smyth said this agency should have "wide powers on planning permission".
He said the cause of the delay on house building is that the planning legislation is 60 years old.
The powers of a new agency should bypass local authorities and other agencies, which are stopping houses from being built, he added.
The agency "should control costs, land, building, with no VAT and no contribution to local authorities", he added.