IKEA has said its stores in Ballymun and Carrickmines are to stay closed, following the Government's announcement this afternoon that homeware shops should remain shut.
In a statement, the Swedish retail giant said that in the meantime, customers can still purchase its products online.
"We will continue to plan for the safe reopening of our stores, once we get the go-ahead from the authorities, and look forward to welcoming back our customers in the not too distant future," it said.
This afternoon, the Government said that only shops providing homeware incidental to the primary retail functions set out in its original list of essential services can now reopen from Monday.
"It is not intended that stores which might also classify themselves as homeware, but primarily sell items such as furniture, bedding, curtains, kitchenware, crockery or other such items etc. should open," a Government statement said.
The move marks a change in position to the details published in the original reopening road map.
It stated that shops that were previously open in tier 2, including homeware, would be able to reopen on May 18.
The shift in position will be a setback to homeware stores that have spent time and money in the last couple of weeks preparing to reopen on Monday.
Retail Ireland said that while public health is the priority, the late removal of homeware stores from the first phase of reopening is disappointing.
In a statement the organisation's director, Arnold Dillon, said many businesses had invested a lot of time and money in preparing, in line with the road map guidance.
"The reopening timetable will leave many retailers closed for the foreseeable future," he said.
"It must be kept under review and earlier reopening facilitated if public health objectives are met within in a shorter timeframe."
Just two days ago Ikea said it was planning to open its Dublin stores, subject to the Government giving approval for the first phase of lockdown restrictions to be lifted.
The company said the stores would be taking a number of measures to ensure the health and safety of its customers and staff.
These included limiting the number of customers in the store at any one time, allowing two members maximum per group, as well as cashless payment only.
It has also installed plexiglass screens at checkouts, service points and planning areas, while social distancing wardens were being appointed to ensure measures are being followed.
The Government had left it to businesses to assess which phase would be appropriate for them to reopen safely in.
It was not necessary for businesses to seek official authorisation to reopen.
The Health and Safety Authority has been given a role in ensuring compliance with the Return to Work protocols, but not in deciding which firms can or cannot resume trading again at each stage.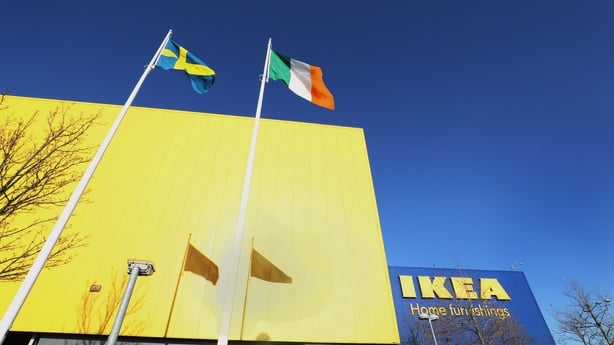 Speaking at this afternoon's press conference, Minister for Business Heather Humphreys said hardware stores that happen to sell homeware will be able to reopen.
But she said shops where homeware is the main business cannot.
The Taoiseach said the reason hardware is being allowed reopen is because it is linked to construction.
However, he added that homeware will have to wait until a later phase.
The reason behind this is that the Government wants to reduce the amount of human interaction taking place.
Minister for Health Simon Harris said the buying of new curtains or bed covers can wait a couple of weeks.