The unemployment rate for April, as measured by the Covid-19 adjusted measure, jumped to a new record high of 28.2%, new figures from the Central Statistics Office show today
The CSO said the Covid-19 crisis continued to have a significant impact on the labour market here in April. 
The new Covid-19 Adjusted Unemployment rate rose sharply to 28.2% from 15.5% in March.
The jump came after the number of people claiming the higher emergency payment more than doubled to 602,107, on top of a seasonally adjusted 216,900 on regular jobless benefits.
The adjusted unemployment rate does not include 427,400 more workers on a wage subsidy scheme for impacted companies, where the state agreed in March to pay 70% of wages up to a maximum of €410 a week for an initial 12-week period. 
The number of subsidy recipients has nearly doubled since the middle of April as the Government encourages struggling firms to sign staff up and even rehire some workers.
This had lead to a tapering off in additions to the emergency jobless payment. 
Around 7,000 more people claimed the pandemic payment in the week to May 5, the lowest weekly rise to date according to Government data, suggesting the adjusted unemployment rate may be reaching a peak.
---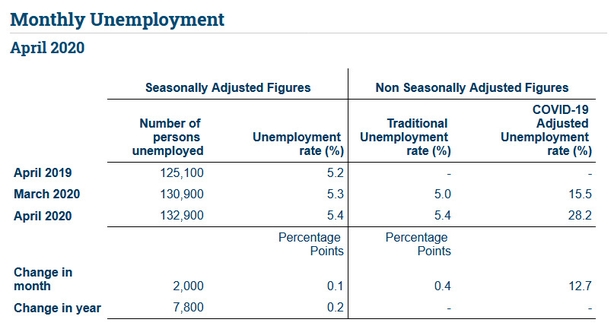 ---
Taoiseach Leo Varadkar has said both emergency payments will need to be extended in some form beyond mid-June and will only be withdrawn in a gradual way. 
Mr Varadkar laid out a roadmap last week for the gradual re-opening of the economy that could allow building sites and some retailers to reopen on May 18, with restaurants following in June, hotels in July and finally pubs in August. 
The highest previous jobless rate recorded since the unemployment figures were first published 37 years ago was 17.3% in 1985. It hit a post-financial crisis high of 16% in 2012 when Ireland was midway through a three-year international bailout.
Today's CSO figures show that the Covid-19 Adjusted Measure of Unemployment stood at 30% for men and 26.1% for women.
We need your consent to load this rte-player contentWe use rte-player to manage extra content that can set cookies on your device and collect data about your activity. Please review their details and accept them to load the content.Manage Preferences
The youth jobless rate stood at 52.8% in April, while it was 24.8% for persons aged 25 years and over.
Meanwhile, the CSO said that the traditional seasonally adjusted jobless rate for April - using standard methodology - was 5.4%, up from 5.3% in March.
The Government introduced stay-home measures at the end of March, shutting down all but essential services to slow the spread of the virus, and it intends to start lifting them gradually from May 18.
Explaining today's figures, the CSO said that those people who are getting the Covid-19 Pandemic Unemployment Payment at the end of April 2020 do not meet the internationally agreed criteria to be considered as unemployed for the purposes of the compilation of its standard Monthly Unemployment Estimates.  
"Therefore, the CSO is producing a supplementary measure of unemployment in parallel with the routine Monthly Unemployment Estimates," it said. 
The CSO said the Covid-19 Adjusted Monthly Unemployment measure includes those in receipt of the Pandemic Unemployment Payment and should be considered as the upper bound for the true rate of unemployment and the standard monthly rate as the lower bound.
The CSO also said today that the seasonally adjusted Live Register total for April was 216,900, up 7,500 from March. 
---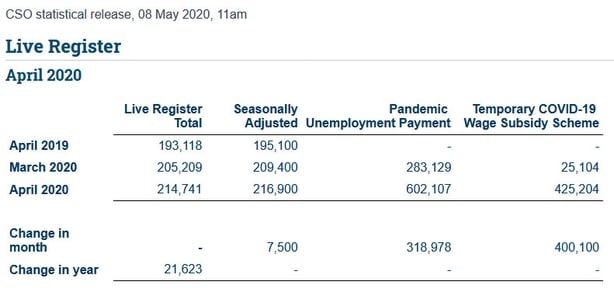 ---
The Live Register figures show that in the last week of April, a total of 602,107 people were in receipt of the Covid-19 Pandemic Unemployment Payment.
A further 425,204 people were in receipt of the Temporary Covid-19 Wage Subsidy Scheme.
The Central Bank estimated in early April that the jobless rate could fall back to 12.6% by the end of the year from what it initially thought would be a peak of 25%. 
But Governor Gabriel Makhlouf said this week that the picture seems to have gotten even starker since those projections.
Commenting on today's figures, Austin Hughes said that  many of those laid off because of Covid-19 will return to work but how many and how quickly will depend in no small way on the actions the Government takes.
While the Government has committed more than €13 billion in fiscal stimulus so far - turning a budget surplus in 2019 into a an estimated deficit of 7.4% of GDP for this year - Austin Hughes said "early and aggressive" further measures will be needed to minimise the ultimate cost to the state. 
Mr Hughes said such measures should support firms rather than households and that actions such as a possible cut in the VAT rate for the hospitality sector, should have a clear expiry date.
Chambers Ireland said significant state interventions are required to ensure that hundreds of thousands of people in receipt of the Pandemic Unemployment Payment and other supports do not fall into long-term unemployment.
President Siobhan Kinsella called for short, sharp, agile interventions to ensure those now in receipt of state supports can re-train, be redeployed and return to work.
"We know that the sectors that are hardest hit, like hospitality and tourism, won't recover overnight," she said.
"They will need significant support, particularly in terms of cashflow, to restart once it has been deemed safe and appropriate for them to do so. In the meantime, Government needs to take immediate steps to prevent those who have lost jobs because of COVID-19 from becoming long-term unemployed."