Aer Lingus and British Airways-owner IAG said that chief executive Willie Walsh would stay on until September to steer it through the coronavirus crisis.
IAG also said today that it was planning for flights to return to service in July.
Willie Walsh had been planning to retire in March but would now leave on September 24, the group said, when Luis Gallego will succeed him.
IAG said today that it was planning for flights to restart in July and that passenger capacity would be about 50% lower, adding that the return was subject to the easing of lockdowns and travel restrictions.
The coronavirus pandemic has halted most flights, leaving airlines across the world battling to cut costs, shed jobs and shrink their operations to try to ride out a travel slump which is expected to last years.
IAG today reported an operating loss of €535m in its first quarter, but cautioned that it expects its second quarter will be significantly worse.
Its passenger capacity fell by 94% from late March as flights around the world were grounded, with limited passenger, repatriation and cargo-only flights operating.
The airline, which also owns Iberia and Vueling in Spain, warned that passenger demand would not return to previous levels until 2023, and as such it would seek to defer deliveries of 68 aircraft.
That adds to steps it announced last week to try to cope with the crisis, when it said that it would seek to cut up to 12,000 jobs, or over a quarter of staff at its biggest airline British Airways.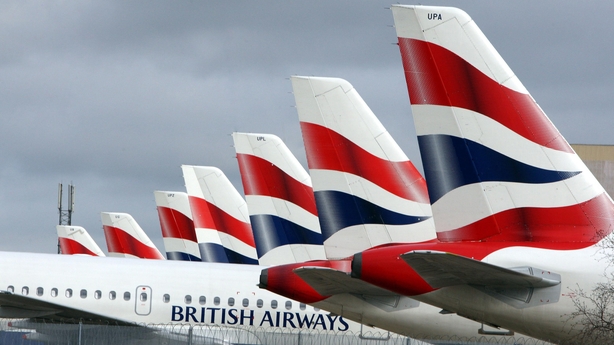 Last week, Aer Lingus also said it would start negotiations with unions representing staff at the airline about cuts of up to 900 jobs.
It is understood that union representatives were told that in order to cut costs across the board, the company is seeking to reduce its 4,500-strong workforce by up to 20%.
"Group-wide restructuring is essential in order to get through the crisis and preserve an adequate level of liquidity. We intend to come out of the crisis as a stronger group," Willie Walsh said in a statement today.
The group said that it had €10 billion of liquidity available to it at the end of April, making it one of the financially strongest airlines in Europe.
IAG said that part of the additional liquidity had come from accessing £300m from the UK's Coronavirus Corporate Finance Facility.
The crisis has forced some airlines, such as competitors Air France-KLM and Lufthansa, to seek government bailouts.
IAG, however, said that while it was using general facilities such as state-backed loans and furlough schemes, it had no need to ask for a specific government rescue.
"A bailout is financial assistance to a failing business, we're not a failing business so we're not looking for a bailout. I've been very clear that state aid which is made on a general basis, if it's applicable to us and we can avail of it, then we will do so," Walsh told reporters on a call.
Willie Walsh also said today that the process for IAG to acquire Spanish airline Air Europa was ongoing, although he noted that the agreement between the pair did contain a price adjustment mechanism.
There has been speculation that because of the coronavirus pandemic, IAG could look to walk away from the €1 billion acquisition it announced last November or try to negotiate a lower price.
"We still have to go through the full competition regulatory approval process. And that is ongoing. So at this point, the process continues," the IAG CEO said.
He also said he supported measures such as temperature checks at airports and the mandatory wearing of face masks to help air travel restart in the wake of the pandemic.