Small and medium sized businesses will not have to pay energy or network charges for their closed premises during the Covid-19 emergency under a new scheme agreed by gas and electricity suppliers and the Commission for Regulation of Utilities.
The temporary Supply Suspension Scheme aims to reduce pressure on SMEs who may have had to close due to the pandemic restrictions, while at the same time lower the risk of bad debt in the sector.
"The CRU considered that the unique and extraordinary circumstances of the current situation required a modification to the current approach to network charges," the CRU said in a statement.
Non-domestic customers will have to complete an application form provided by their supplier which will explain the circumstances around why they have had to close.
In turn, the suppliers will then deal directly with the network operator to ensure applicants who are successful are included. 
We need your consent to load this rte-player contentWe use rte-player to manage extra content that can set cookies on your device and collect data about your activity. Please review their details and accept them to load the content.Manage Preferences

There are criteria which must be met before customers can avail of the scheme, including that they must not be an essential service provider, must have been trading prior to March 13 and has had their premises closed continuously as a result to the restrictions from March 28 until they are lifted.
Electricity and gas customers must also be within the appropriate usage bands or metering for each supply, the CRU said.
The scheme will run from May 1 to July 31 and will be monitored by the CRU.
The Minister for Communications, Climate Action and Environment Richard Bruton said the new scheme will significantly reduce energy bills for small and medium sized enterprises, which have had to close temporarily due to Covid-19.
He said the Commission for Regulation of Utilities (CRU) has worked with all of the system operators - Eirgrid, ESB Networks and GNI and with suppliers in developing this initiative.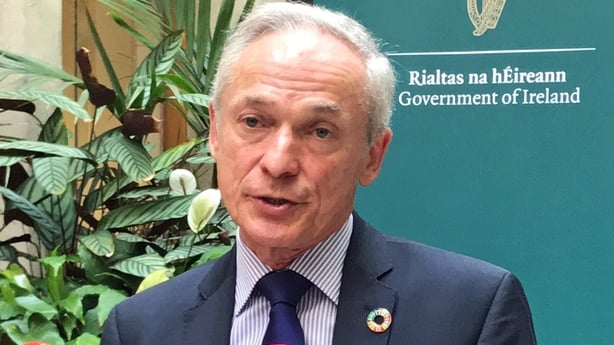 "Any SME who has had to close temporarily due to the Covid pandemic, can apply to a new scheme which will see a very significant reduction in their energy bills during the period," the Minister said. 
"Electricity and gas charges are typically a small proportion of many business's overall costs; however it is important that everything possible is done to support enterprise during this particularly difficult time," he said.
"The measures being announced today will also ensure that enterprises can return to operation as quickly as possible once the public health restrictions are revised," the Minister added.
The Chairperson of the Commission for Regulation of Utilities says the new scheme should save businesses a couple of hundred euro a month, with some saving a couple of thousand of euro over the period. 
Aoife MacEvilly said that about 225,000 businesses will qualify for the scheme. 
Ms MacEvilly said at there might be a small amount of energy consumption during this period - such as refrigeration usage - and this will be included in future charges. 
She also urged domestic customers, who have seen a significant reduction in their income, to engage with their suppliers who will help them work out a payment plan over a longer period of time.
For the period of restrictions, no customer will be cut off, she added. 
Today's latest initiative builds on earlier electricity and gas customer protection measures aimed at households introduced in light of the Covid 19 pandemic.
These include the introduction of a moratorium on disconnections of domestic customers for non-payment, extended to June 16, increasing emergency credit for gas prepayment meters from €10 to €100 and the prioritisation of reconnections.
Gas Networks Ireland confirmed it agreed to sign up to the scheme. 
Gas Networks Ireland owns, builds and maintains the natural gas network in Ireland and connects all customers to the gas network.
Denis O'Sullivan, Managing Director at Gas Networks Ireland, said the SME sector is a critical part of Ireland's economy.
He said that Gas Networks Ireland recognises the difficulty facing these businesses during the Covid-19 crisis.
"In particular we understand the financial pressure on small businesses that have effectively closed as a result of Covid-19," Mr O'Sullivan said.
"To try and alleviate some of the financial pressure, Gas Networks Ireland will forego network charges for a period of three months. We hope that this measure, along with other supports from government, will assist these businesses in getting back on their feet as quickly as possible and support overall economic recovery," he added.
Pinergy also welcomed the scheme.
"We at Pinergy are fully aware of the challenging times many of our SME customers now face in the current Covid-19 crisis. As part of our ongoing support services, we are very happy to support this new initiative from the CRU," said Enda Gunnell, CEO.
"We hope this supply suspension scheme will help relieve some of the stress faced by our SME customers during this difficult period."