The Assessor of Anglo Irish Bank has determined that former shareholders in the bank are not entitled to any compensation. 
Assessor David Tynan, of accounting firm PWC, was appointed in 2018 to independently assess if there was any value in the shares held at the time the bank was nationalised in January 2009. 
His final report, published today, finds that the "fair and reasonable aggregate value" of shares at the time was nil. 
Therefore, no compensation to former shareholders is payable, the assessor added. 
The assessor was contacted by over 4,000 former shareholders and rights holders over the course of his work.
He said the vast majority of contact was to register shareholdings in the event that any compensation would become available. 
David Tynan described the state of Anglo Irish Bank at the time of nationalisation as "insolvent". 
He said it was unable to pay depositors' withdrawals and its loan book was exposed to a collapse in the commercial property market where values were 45% lower than the values assumed by the banks.  
He also said the trading value of Anglo shares on the day was not "an appropriate indicator of value". 
This was because investors were unaware at the time of the financial irregularities surrounding the €7.2 billion deposit from Irish Life and Permanent and the decision by the Government not to inject €1.5 billion in preference shares.
The report finds the total losses on the bank's loan portfolio were €34.5 billion by the end of 2010.
Between direct cash injections and promissory notes, the Government had supported the bank to the tune of €29.3 billion.  
Anglo was merged with the Irish Nationwide Building Society (INBS) in 2011 to become the Irish Bank Resolution Corporation (IBRC).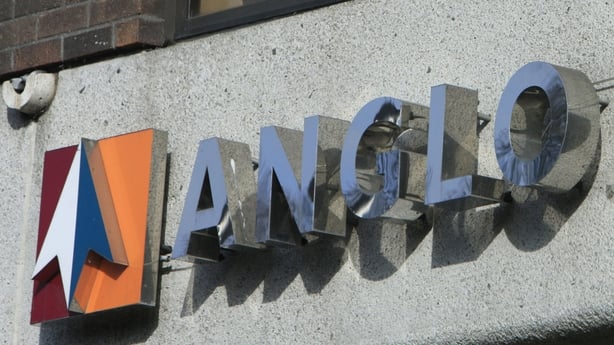 Following the appointment of liquidators to IBRC in 2013, the report found the most-up-to date surplus from that process stands at €1.25 billion. 
The Assessor referred to submissions which asked if some of the surplus from the activities of NAMA or IBRC should be set against the losses made by Anglo to leave some value for shareholders. 
He stated that even in an "extreme assumption" that all of the expected €4 billion NAMA surplus could be attributed to Anglo loans, when combined with the proceeds of the liquidation of IBRC would still only make €5.25 billion.  
That had to be set against the €29.3 billion government investment in Anglo and €5.4 billion in INBS.